Telluride Tourism Board

About Us
The Telluride Tourism Board's mission is to market and maintain the quality of the Telluride region experience for the benefit of both the visitor and the economic sustainability of the community.
Marketing Telluride Inc. (MTI), operating under the DBA Telluride Tourism Board (TTB), was formed in 2005 to assume the responsibility of marketing the Telluride region as a year-round destination. The Tourism Board is a private, not-for-profit, 501 (c) (6) with a self-appointing board.
Over the years, the Telluride Tourism Board's efforts have evolved to address tourism management and sustainability to ensure preservation of the community.
Radcliffe Reports
In 2005, the Radcliffe Company was hired by the towns of Telluride, Mountain Village and San Miguel County to conduct a comprehensive evaluation of the Telluride Convention and Visitors Bureau, to form a new destination marketing organization, Marketing Telluride Inc. DBA Telluride Tourism Board. Radcliffe created a plan for the TTB, including organizational structure, destination marketing observations, staffing structure, budget and plan implementation. The 2005 Radcliffe Report can be viewed here.
The Radcliffe Company returned in 2019 to initiate another review of the organization to ensure effective resource deployment strategies and that overall performance was properly aligned with the needs of the industry and the community. The 2019 Radcliffe Report can be viewed here.
Telluride Tourism Board Budget Information -
TTB Funding Sources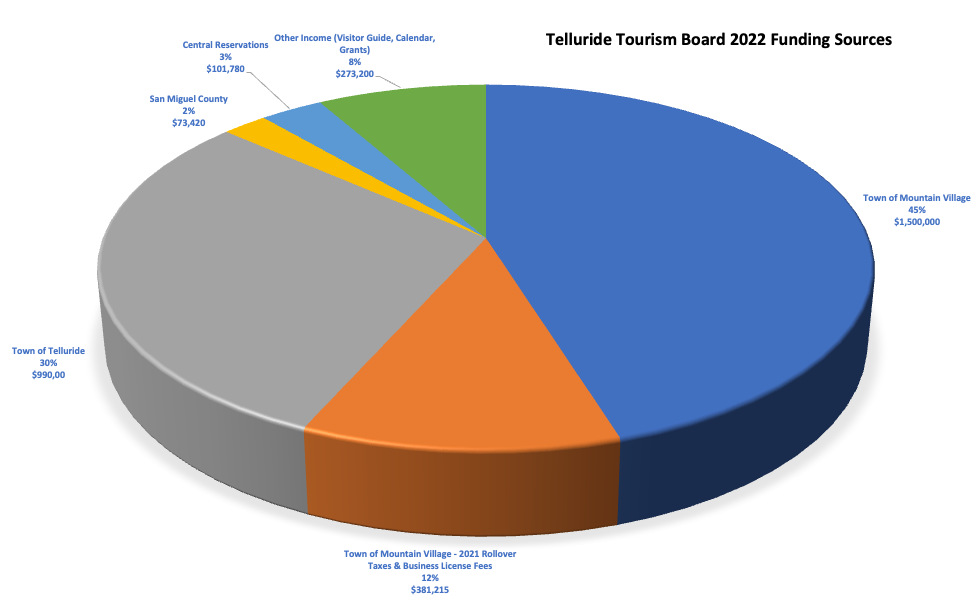 TTB Expenses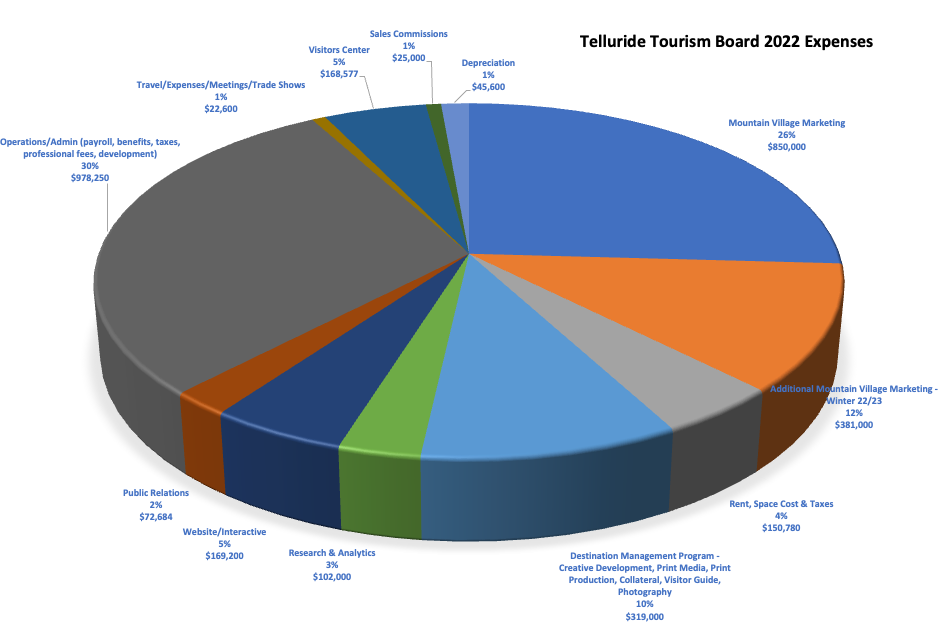 Annual Reports
2020 Snapshot
COVID Response
When the 2020 winter season abruptly ended, and the state and country shutdown due to COVID-19, the Telluride Tourism Board quickly pivoted its focus. All winter advertising was immediately paused, and the organization honed in on supporting the community through pandemic induced challenges. Paid destination advertising campaigns transitioned to COVID safety protocol messaging, buy local campaigns and leave no trace efforts. Public relations initiatives pivoted to supporting Public Health. All summer advertising was halted, and community outreach continued.
The Telluride Tourism Board team is passionate about the community and committed to assisting in its recovery. We all have established deep roots in this area, and want to ensure its sustainability for the future. Click here to view details about the TTB's community efforts through the pandemic.
The Team
Kiera Skinner
Kiera Skinner has been on the Telluride Tourism Board team since May 2010, and became Executive Director in 2022. She started her career in ski industry and tourism marketing in 2001 at Purgatory Resort in Durango. In 2006, she moved to Telluride where she was Director of Sales and Marketing for property management company Resort Quest, and then opened and launched luxury boutique hotel Lumière. Originally from Boston, Kiera would spend summers in Colorado where her dad lived, and graduated from the University of Colorado Boulder. She visited Telluride for the first time in summer 1987 and fell in love with the beauty and character of the area. Now, she's grateful to be raising her two children, Kyle and Camille, here with husband, Matt. Kiera currently sits on the board of Palm Arts as secretary, the Colorado Tourism Office's International Promotions Committee, and assisted San Miguel County with PR efforts during COVID as Public Information Consultant.
Hollie H. Hannahs
Hollie is originally from Atlanta, GA and holds a bachelor's degree in early Childhood/Elementary Education from the College of Charleston. Hollie has been a resident of Telluride for twenty years and has always occupied a position in the destination's hospitality and tourism industry.
Upon arriving in Telluride in the fall of 2000, Hollie held various positions with ResortQuest Telluride Property Management Company until 2009 when she then began a nearly 7-year stretch as Executive Director of Lodging for Telluride Ski and Golf. Hollie joined the TTB team in December of 2015 as the Director of Operations. She oversees Telluride Central Reservations, the daily operations of the Visitors Center and works closely with Michael Martelon on a wide variety of data driven projects for the destination. Hollie also manages the Winter Guest Services team at the Montrose Regional Airport as well as the Town of Telluride's new Ambassador Guest Services Program.
Hollie has two daughters Hadley (10) and Hayes Margaret (6). She and her family enjoy downhill and cross-country skiing in the winter, paddle boarding, hiking and especially camping in the summer.
Tom Watkinson
After growing up in Telluride and returning home from college, Tom became a rafting, jeeping and snowmobile guide for Telluride Outside. After almost 10 years of guiding, and over 30 years of living in Telluride, Tom made the career change of going to work for Telluride Ski Resort. He started in sales and moved on to PR and Communications where he spent 11 years marketing the ski resort and Telluride.
Then, deciding to move on, had a very short tenure in the movie industry with the Quentin Tarantino's The Hateful Eight, shot here in Telluride. As that production ended, the Telluride Tourism Board asked Tom to join the team in 2015 as the Director of Communications.
Shortly after joining the TTB team, Telluride's Town Council had four seats come up for election and Tom took it upon himself to dip his toe in the political ring. He was elected to the seven-seat council in 2017 to a four-year term.
Tom's passion for this community, town and box canyon shows as he has raised a family and started a second generation here in Telluride.
Board Meetings
The Telluride Tourism Board will hold quarterly Board of Directors meetings that the public are welcome to join. Please click here for information about the meeting on Wednesday, September 7, 2022.  The next Board of Directors Meeting will be held in early December 2022. More details to follow. 
Board of Directors
Dan Jansen, Chairman
Albert Roer, Vice Chairman/Treasurer
Wendy Basham, Officer
Patrick Berry, Town of Mountain Village Appointed Officer
Meehan Fee, Town of Telluride Appointed Officer 
Larry Mallard, Emeritus
Tom Elrod, Emeritus