Telluride Fire Festival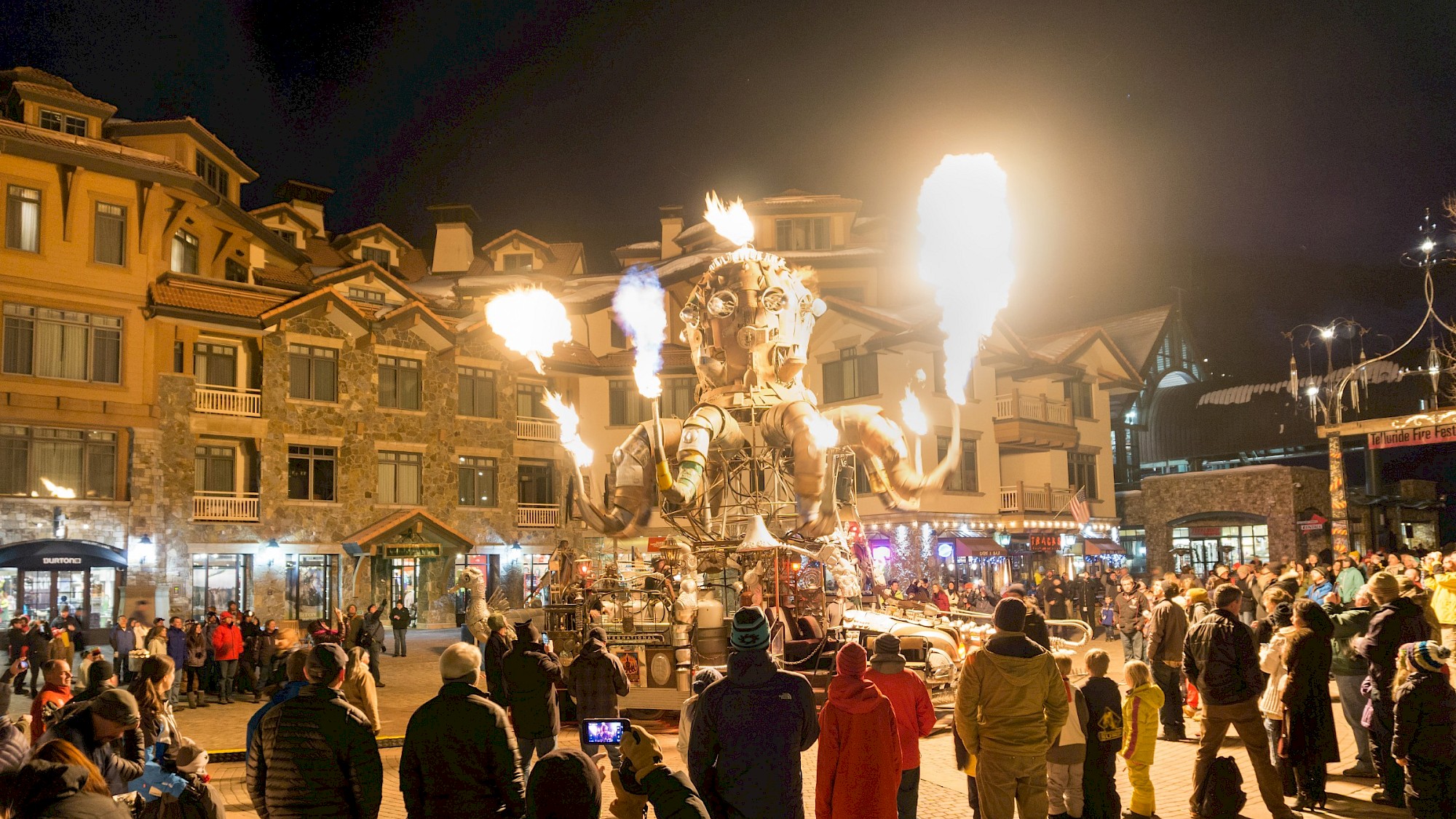 Inspired by Burning Man, The Telluride Fire Festival is centered around an interactive experience of fire artistry. The goal was to bring the Burning Man ethos to Telluride along with the larger-than-life fire art to the region to support these artists and allow more people the ability to see, interact with, and create this visual magic. Since 2015, the annual event continues to offer dynamic art performances each evening in a variety of locations. Additional ticketed entertainment, plus an over-the-top Fire Ball with theatrical performances, music, cash bar, and an outdoor fire sculpture garden. Free and fee-based fire related workshops are also a staple component of the Telluride Fire Festival. This December 3-5, 2021 we expect to change it up again with new fiery art and unique performance art.
October 2019, the Festival changed their nonprofit name to Rocky Mountain Arts, which embodies more than the fire arts and helps educate our supporters about the multi-faceted programs and performances offered by the Festival. This year's event is able to offer the free workshops at the library and November True North Youth Program Workshop through generous donations, grants, and sponsorships.
2021 Fire Festival Schedule of Events - Click here for a full schedule
Theatrical show at The Palm Theater
December 3, 8-9pm, Doors at 7pm
Telluride Dance Collective & Homestead Circus Productions
Free Flow Arts Workshops
December 4 & 5, 1, 2 & 3pm
Telluride Wilkinson Public Library
Resurrection
December 4, 5pm – until 11pm
End of the the box canyon, out-of-doors
Fire art, flaming art cars, fire performances, music, bar
Free Telluride Express shuttle provided across from the Courthouse.
Guests must wear a face mask and have a wristband before getting on the shuttle.
Limited parking available at the event. Must be purchased in advance.
Ticket purchases are refundable due to Covid-19. Events subject to change due to Covid-19. 
Covid safety requirements to attend all events:
Guests will be required to wear face masks indoors and must show proof of vaccination or provide negative test results for 24 hours prior to event start date with a corresponding photo ID.
Tickets are available for purchase now. Click here to view all options.
Fee-based workshop
Rescheduled for May 7 & 8, 2022
Welding: 2-day workshop with Dan Gundru
View All Festivals & Events