Getting Here
Whether you're flying into the region or venturing on a road trip, Telluride offers a unique journey marked with unmatched scenery, heritage and charm. 
Travel to Telluride and Mountain Village is easy, with direct flights from five major hubs in the summer and 11 hubs in the winter months. The Telluride Regional Airport (TEX) is just 10 minutes from the heart of both Telluride and Mountain Village, while the Montrose Regional Airport (MTJ) is a scenic 65 miles away. Several transportation companies provide service from Telluride to Montrose. Rental cars are also available at the Montrose Airport, but we recommend the ground transportation option as once you arrive in Telluride, as a car is unnecessary. 
Looking for a shuttle to/from the Telluride or Montrose Airport? We can help!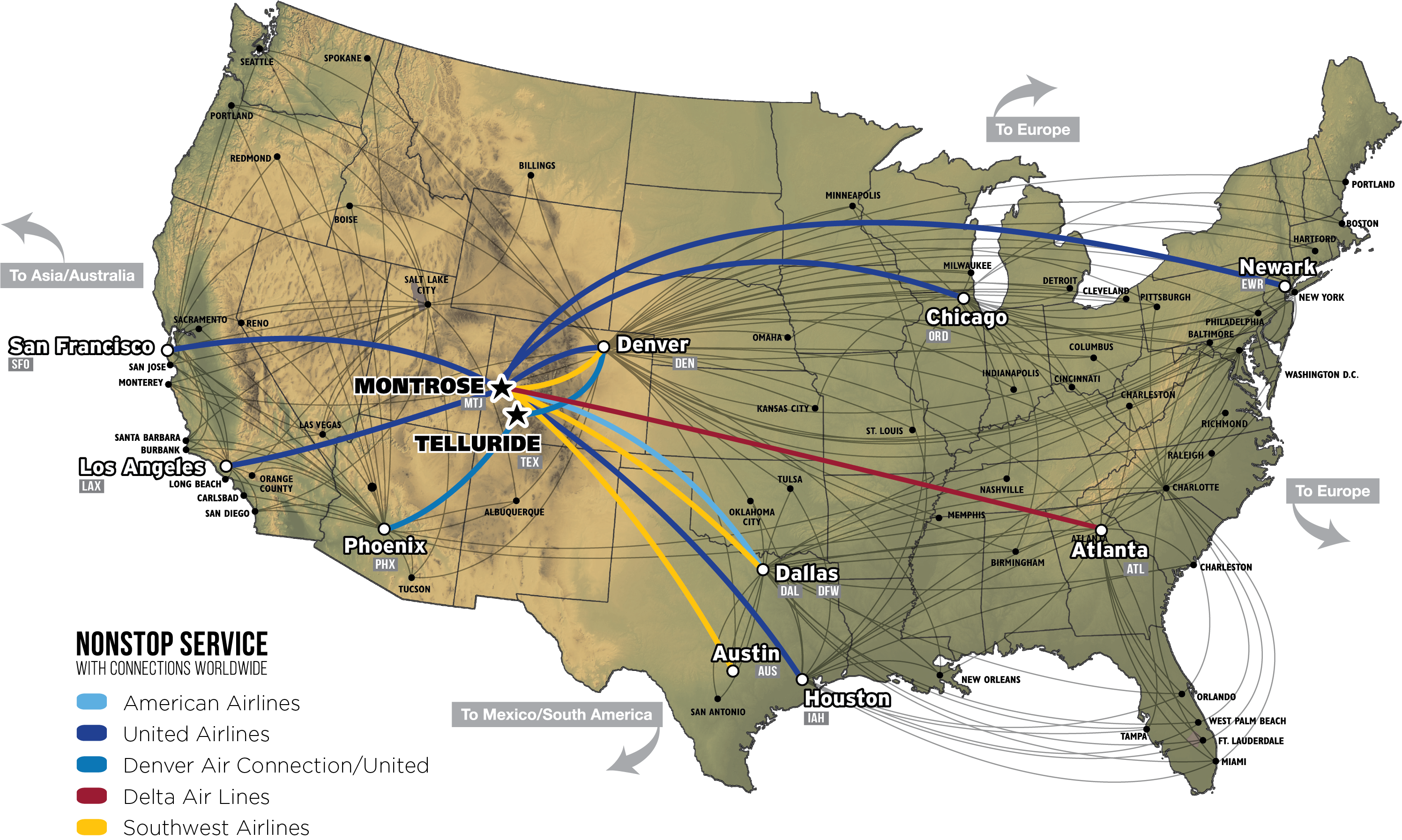 This winter, enjoy direct flights from 11 major US hubs. Take advantage of daily flights from Atlanta, Chicago, Denver, Dallas (DFW and DAL), Houston and New York to Montrose (MTJ) from December to late March/early April. Austin also offers Saturday flights to Montrose, Los Angeles offers Saturday and Sunday flights to Monttrose, and San Francisco has flights 2-3x weekly plus additional flights during the holidays. Phoenix also has daily flights year-round (Thursdays through Sundays in November and April) direct to Telluride Regional Airport (TEX) on Denver Air Connection. Denver Air also offers year-round service from Denver to Telluride (TEX). Denver Air Connection partners with United Airlines, which enables travelers to book and connect through the global United network. The Telluride Airport is also open to general aviation, including charter and private planes.  All major charter companies serve the airport, and links to several options are available here. Rental cars are available at the Telluride Airport.  
Book Now on United           Book Now on Denver Air
To speak with a visitor information specialist about your Telluride travel, please call 888.605.2578. We look forward to your visit.