Winter Dining with a Creative Twist
Telluride and Mountain Village restaurants have gotten creative with fun, delicious dining options that range from inventive comfy-but-beautiful heated outdoor spaces to take-home fine dining and cocktails, as well as prepare-at-home dinner kits complete with wine pairings.
Want to experience the best of our exquisite, award-winning local dining scene this winter? Here's what you need to know.
MOUNTAIN VILLAGE
There's only one word that can describe snow-season dining in Mountain Village: wow! The village center's plazas have been transformed into vibrant outdoor dining pavilions perfect for takeout, with refurbished gondola cabins, cozy tents and outdoor fire tables.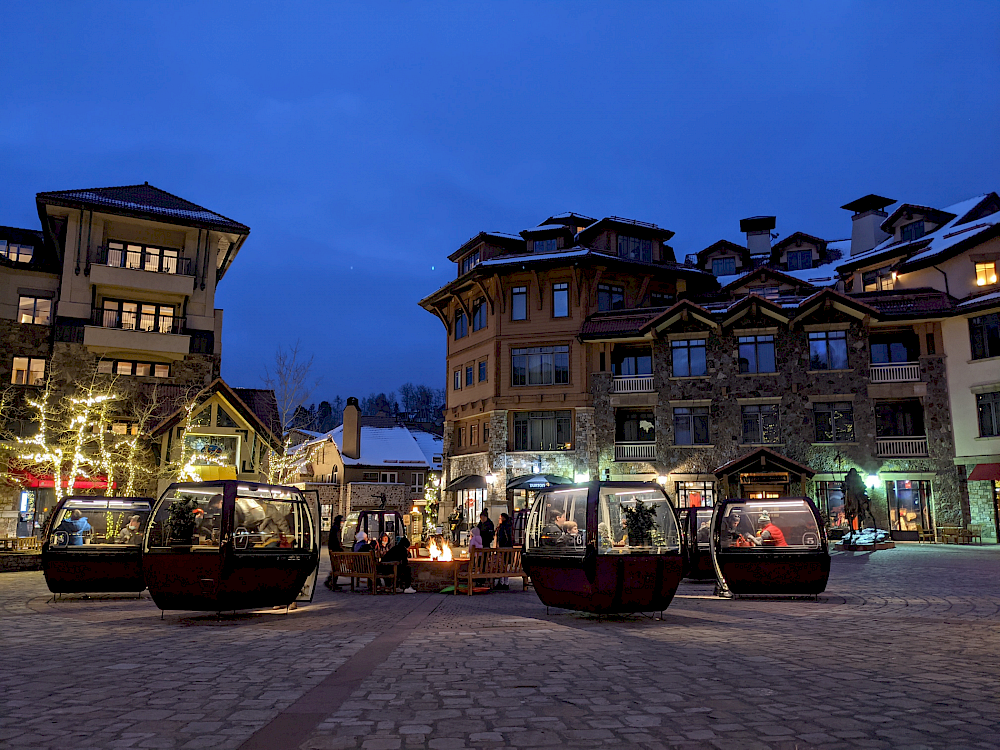 For a truly memorable meal, try Village Table, which offers a wonderful Mediterranean-influenced menu for takeout or to enjoy outdoors in its charming, heated and lit tent.
Lively Tomboy Tavern and Tracks both offer up casual fare indoors, for takeout or on their sunny patios. Tomboy Tavern fronts onto the ski resort's famed "beach" at the bottom of Lift 4. Enjoy their super-tender ribs with a microbrew and watch skiers make their way down Misty Maiden, some gracefully and others less so. Tracks is perched on Heritage Plaza, making it perfect for people watching or letting the kiddos roam free.
Nearby Telluride Coffee Company likewise has a patio perfect for sipping a delish coffee or enjoying a delicious diner-style breakfast while watching the goings-on on Heritage Plaza.Just off the plaza, the Madeline's Black Iron Kitchen offers modern mountain cuisine served outdoors at exquisite fire tables for a unique experience.
Next door is a fun spot: Telluride Brewing Company's new venture, Los Buenos Tacos. Locally brewed beer and tacos? Sign us up.
Need something delicious and sweet to sip on? Head to Snowberry for an authentic Asian boba drink along with Thai-style milky tea and iced coffee, fresh mango lassi, mochi ice cream balls and other Asian treats.
Another great combo of locally made libations and wonderful food is the Telluride Distilling Company's tasting rooms, whose outdoor space in the Franz Klammer breezeway includes fire tables and outdoor heaters. Sample their wonderful, small-batch whiskey, vodka and more while noshing on a jalapeño cheddar elk brat or buffalo sausage braised in Telluride Distilling Co. whiskey and served up on a pretzel bun.
Clustered on the aptly named Sunset Plaza are a trio of restaurants sure to please a range of appetites and budgets. La Piazza del Villaggio serves up fabulous and authentic Italian fine cuisine, while sister restaurant La Pizzeria is the more casual pizza joint next door. And there's Poachers Pub, a relaxed, friendly hangout that also faces Sunshine Plaza and serves pub grub.
Want views that rival the menu? Head to the Peaks Resort & Spa and the Decks at Altezza. There, you and your pod can get cozy around a fire pit or opt for a table near an outdoor heater for delicious al fresco après with 180-degree views of the surrounding peaks. Simply stunning.
Speaking of views...The View Bar & Grill at Mountain Lodge serves up a delectable cuisine to match the view framed by floor to ceiling windows. 
Just outside of the Mountain Village core area in Market Plaza is El Rhino Taco & Coffee Bar which offers handcrafted carnitas tacos, breakfast food items, coffee and everything else you need to fuel your day
TELLURIDE
In Telluride, charm and scrumptious are the key words as the town's restauranteurs dish up wonderful fare this winter in some pretty cool spaces.
A number of Telluride restaurants are offering patrons a unique dining experience in a bespoke outdoor structure. On La Marmotte's patio, for instance, diners can sample the restaurant's traditional French fare in enchanting glass igloos.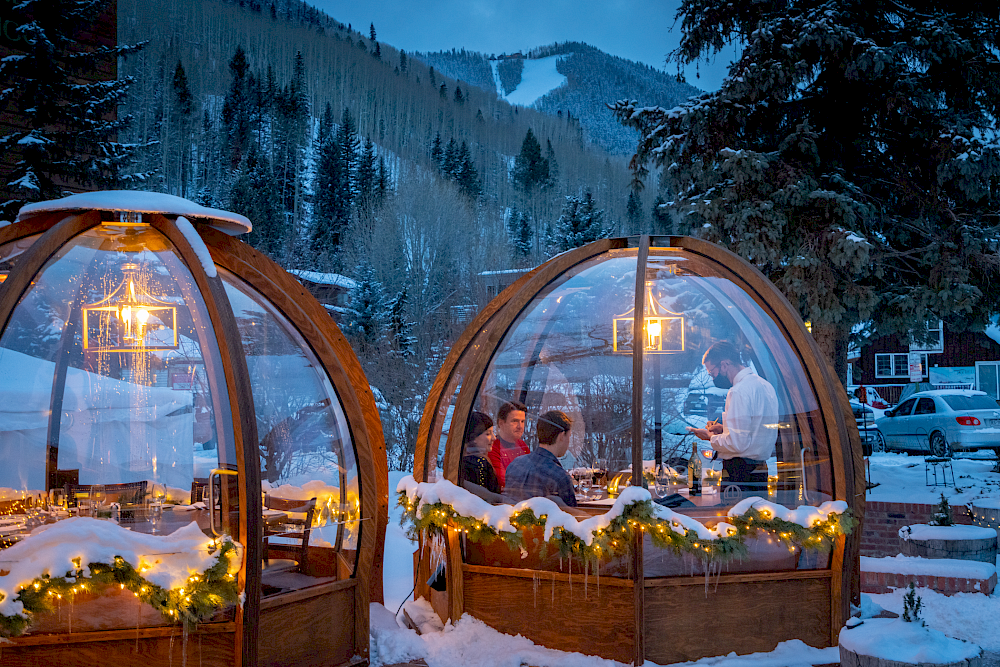 Or try La Cocina. Located on Main Street, this Mexican restaurant's outdoor terrace has been capped this winter with a greenhouse, making it a cozy spot to sample the eatery's delicious, organic fare, which is available to go too.
There's also 221 South Oak. The backyard at this modern bistro now boasts a rustic, truly Coloradoan yurt nestled among the trees — a unique place to sample owner/chef Eliza Gavin's exquisite menu. An alternative? Chef Eliza's "Friday Box of Funtime", which includes ingredients for a three-course meal for two plus paired wines and a link to a virtual cooking class with the uber-talented Gavin, a renowned cookbook author and Top Chef alum.
The Cosmopolitan, a fine dining spot across the street from Telluride's Gondola station, now has an outdoor deck beside the Gondola with very cool fire tables and outdoor heaters and backed by fir trees cloaked in colorful lights. Cosmo — a locals' favorite for its sushi and (of course) cosmopolitan cocktails — also offers drive-through.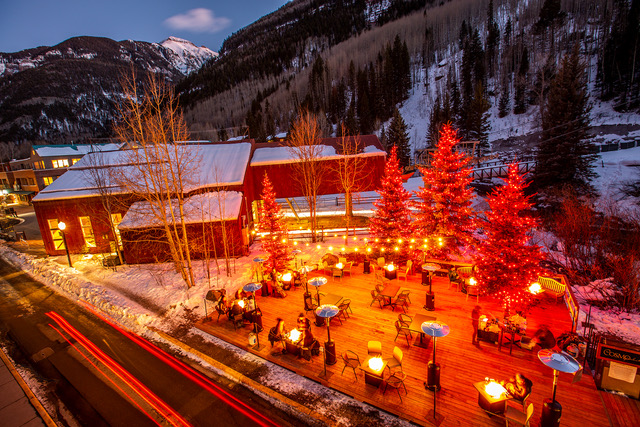 Want to enjoy the buzz and astounding views of Telluride's Main Street? Both the New Sheridan Chop House and Floradora have sidewalk patios on the sunny side of Colorado Avenue with vistas and people watching opportunities that might make it hard to keep your eyes on their respective modern mountain-influenced menus.
Also on Main Street, Steamies, an award-winning burger place, has tables tucked inside a breezeway just outside this welcoming, family friendly restaurant.
Another happy patio? The sunny spot at Taco del Gnar on South Oak Street, which serves up wildly inventive tacos and seriously addictive sides. Yum.
On the Gondola Plaza is Oak, a popular spot that boasts a perfectly placed patio from which to enjoy the authentic southern barbecue of this beloved locals' favorite.
Just east on San Juan Avenue is Smugglers Brewpub. This friendly eatery serves pub fare elevated to a whole new level at outdoor tables on a fun patio.
Speaking of elevated, there's a bunch of fantastic spots that offer outdoor dining on decks, offering a neat vantage point for views or people-watching. On Fir Street, the Cornerhouse (north of Main) and Stronghouse Brewpub (south of Main) serve casual cuisine with a fun, relaxed vibe. Hit up Baked in Telluride for baked treats, soups and chilis, pizza and more, all best enjoyed on this centrally located bakery's famed front porch.
Or head around the corner from BIT to Littlehouse on West Pacific Avenue to sample its European market-style deli counter with extensive salad, charcuterie and cheese offerings best enjoyed on the stylish porch out front.
A locals' tip? The much-loved Butcher and Baker isn't offering indoor dining this season, but has a to-go menu. Grab some of their delish takeout and enjoy it at one of the sun-soaked tables outside or behind the establishment where there is a fire pit and seating.
GET OUT OF TOWN
For something completely different, try Telluride Sleighs and Wagons, located west of downtown Telluride. Here, fifth-generation Tellurider Ashley Story regales visitors with stories of her family's and the area's rich history on a horse-drawn sleigh ride at the family's historic Aldasoro Ranch. Fine dining in a heated, lit tent follows, completing an unforgettable evening of great food and memorable tales.
One Last Note
Protocols, and how restaurants adapt to them, are subject to change, so it's best to phone ahead to the restaurant. On arrival, familiarize yourself with any in-house rules and comply with them. And remember to be respectful of our community's bar and restaurant staff. It's a tricky time and everyone is doing their best.
Now, bon appétit Telluride style.
For more information on all your local dining options, check out visit-telluride.com
View All Blogs