Destination Telluride: Winter air options make it easy to hit the slopes
Straight up? This year has been a rollercoaster, meaning that more than ever the tranquility, laidback vibe, and wide-open spaces of Telluride make it the perfect wintertime destination. And while it is often described as off the beaten track, Telluride remains easily accessible by air, with a range of routes planned for snow season 2020-2021 that promise to get you on the slopes in a jiffy.
First, some caveats. With new players and routes taking the place of some historic partners, flight options to Telluride will have a different look this winter, and maybe adjusted as the season progresses.
That said, let's take a peek at the winter 2020- 2021 options into the two airports that serve Telluride: Telluride/Montrose Regional Airport (MTJ), a wonderfully scenic 75-minute drive away, and Telluride Regional Airport (TEX), just 10 minutes from the Telluride Ski Resort.
United Airlines' routes will continue to serve Montrose with daily flights from Denver, Houston/Bush Intercontinental Airport (IAH) and Chicago/O'Hare International Airport (ORD), flights two to five times weekly from Newark International Airport (EWR), San Francisco International Airport (SFO) and Los Angeles International Airport (LAX).
Denver Air will operate service from DEN to Telluride Regional Airport, including twice-daily during the busier weeks of the season, connecting and bookable through United or at Denver Air.
In addition, American Airlines is resuming Saturday flights from Charlotte (CLT), the carrier's second largest hub. American will also continue to fly two to three times a day from Dallas/Fort Worth (DFW), daily from Phoenix Sky Harbor International (PHX), weekly from New York/LaGuardia Airport (LGA) and LAX, and daily during busier weeks from Chicago/O'Hare, all to the Montrose airport.
And, two new airlines have joined this season's air service roster, Southwest and JetBlue, starting in mid-December. JetBlue will operate from Boston/Logan International Airport (BOS) to MTJ on Saturdays and select Wednesdays during the season. Southwest will fly two to three times daily from Denver to MTJ, and on Saturdays and Sundays from Dallas Love Field (DAL), also to Montrose.
It is worth noting that the airlines and airports that serve the destination have implemented robust health and safety protocols. Checking ahead for the specifics beforehand is not a bad idea.
A good idea? Heading to small, friendly, and serene Telluride this winter. Nestled high in the San Juan Mountains and home to the award-winning Telluride Ski Resort, your favorite mountain town promises an unforgettable winter getaway, the perfect antidote to the rollercoaster.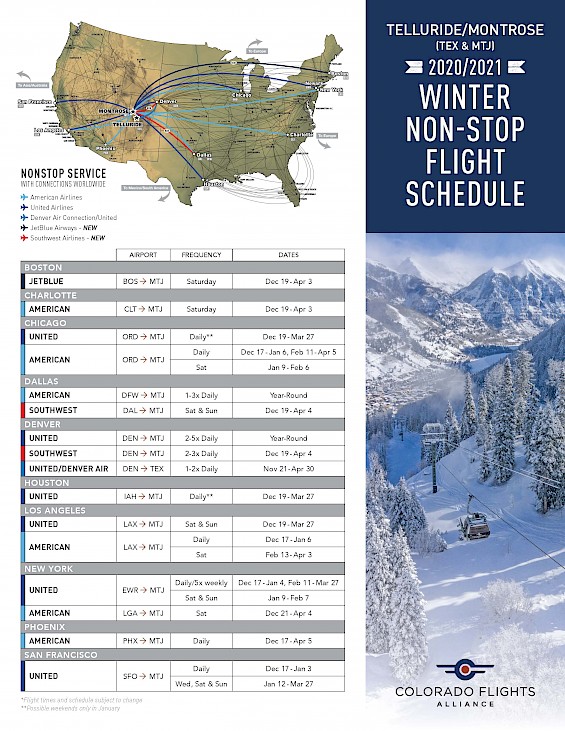 View All Blogs