Winter 2020/21 Air Service to Telluride
In a year that can only be described as a rollercoaster in the air industry, Telluride's winter flight schedule is finally starting to take shape. With new players and routes taking the place of some historic service, flight options will have a different look. However, even as the schedule is announced, it is with the caveat that each of these airlines will continue to adjust service on a month-to-month basis as the pandemic and recovery continue. 
As the airlines are looking for paths to recovery through the pandemic, leisure travel has taken the lead in an industry historically dependent on business travel. With that shift through the fall, multiple opportunities for Telluride and MTJ have come across the table. 
In considering the options, Colorado Flights is targeting consistency and only modest growth in light of the current health and travel environment. Key considerations for additions also include airlines and routes that represent long-term opportunities, and contribute to a more sustainable and low-volatility economy. The changes that have been selected look beyond this immediate year for durable partnerships and continued stability for the region.
Winter flight changes are led by the previously announced withdrawals of Allegiant and Delta airlines, including Atlanta, Salt Lake City and Los Angeles routes. Delta has plans to return in winter 2021-22.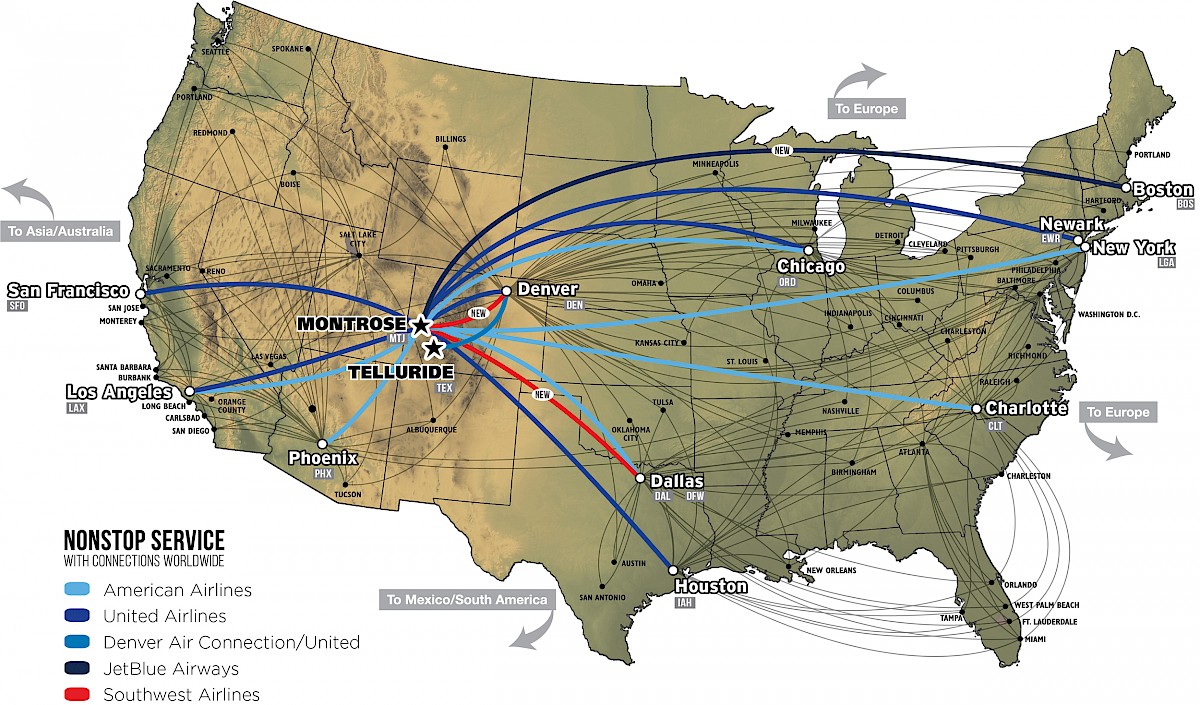 These two airlines will be replaced by Southwest and JetBlue, with service starting mid-December. 
JetBlue will operate from Boston Logan Airport (BOS) to MTJ on Saturdays and select Wednesdays during the season. Update: JetBlue has added a handful of flights(5) from New York (JFK) and Los Angeles (LAX) on select weekends between December 19 - February 20.Southwest will fly 2-3x daily from Denver (DEN) to MTJ, and on Saturdays and Sundays from Dallas Love Field (DAL) - MTJ through the winter.
"We have been talking with both these airlines for more than five years, and look forward to long-term partnerships and service for western Colorado," said ColoradoFlights CEO Matt Skinner. "The new flights provide great options and low fares from longstanding markets for both our incoming guests and area residents and businesses, as well as a layer of economic sustainability for the region."
Other changes this winter include the return of Saturday flights from Charlotte (CLT), American's second largest hub. American will also continue to fly 2-3x daily from Dallas- Fort Worth to MTJ, daily from Phoenix, weekly from New York – LGA, and daily during busier weeks from Chicago.
United's routes will see some shifts in schedule, with Denver likely to have one less flight per day, Newark (EWR)-MTJ reducing from daily to 2-5x weekly, Houston and Chicago running daily except for potential reduction to weekends-only in January, San Francisco maintaining schedule except for fewer weekday flights during January, and Los Angeles running as normal on weekends.
Denver Air will run a similar schedule from DEN - Telluride Airport (TEX), including twice-daily during the busier weeks of the season, connecting and bookable through United or at Denver Air.
Airlines and airports continue to improve safety and health protocols as travelers slowly return to the air. Seat restrictions and spacing are handled individually by each airline. Guests are advised to check safety protocols for both the airline on which they will be traveling and the destination they are traveling to.
For full winter schedule information, please visit www.coloradoflights.org/schedule, and for vacation booking and information, please visit www.telluride.com and www.tellurideskiresort.com.
 *Schedules subject to change. United flights may be serviced by United Airlines or United Express. American flights may be serviced by American Airlines or Envoy/American Eagle.
View All Blogs