Want to Live Like a Local? Here's How
Love Telluride, Mountain Village and their spectacular surroundings? We do too. So, let's work together to protect this special place. The brainchild of local environmental organizations, as well as the Telluride Tourism Board and Telluride Foundation, the Live Like a Local campaign uses colorful icons and friendly-but-firm guidance to shine a light on the existing local ordinances and best practices designed to protect our natural environment, as well as our quality of life. Keep an eye out for the Live Like a Local messaging, which encourages visitors and locals alike to:
Don't be Trashy, reduce, reuse and recycle. If you need help with local recycling rules, ask your property manager or carefully read the signage on the garbage cans and dumpsters where you are staying.
Slow the Flow, save H20. Our wonderful and diverse region is more than two decades into a long-term drought that is threatening lives, lifestyles, wildlife and ecosystems. Please conserve the area's precious water.
Be Bear Aware, and secure trash cans. Allowing bears and other wildlife to get used to human food waste is dangerous for these wonderful wild creatures.
Pick Up where your dog left off. Use the bags provided at dispensers for your pooch's poop and then — and this is key — dispose of both responsibly.
Leave No Trace. Let's give our natural surroundings some love this summer by exploring the backcountry responsibly. The Telluride Mountain Club has a handy guide to Leave No Trace principles at telluridemountainclub.org. Check it out before you head out.
Idling is a Turn Off. It's also illegal per local ordinance, which prohibits idling a motor vehicle for more than 30 seconds (three minutes on a cold morning). It's just as well — auto experts point out that not only is idling unnecessary, it's harmful to car engines. The bottom line? Our mountain air is clean and clear. Let's keep it that way!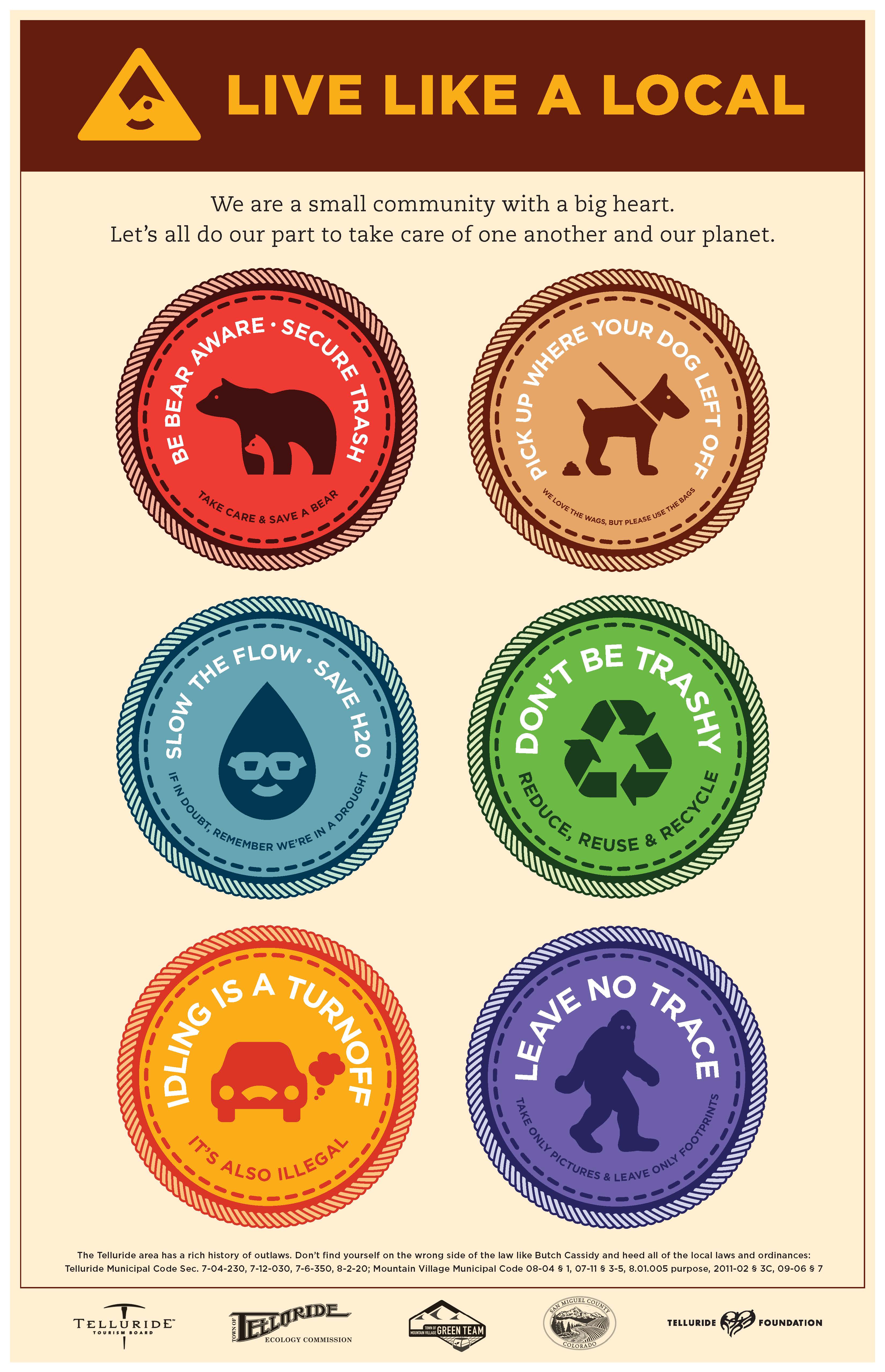 View All Blogs