Telluride: The Easiest Ski Vacation You Will Ever Take
Anyone who lives to ski or board knows that the sensation of hitting those powder shots, the weightlessness of gliding and schussing on snow is absolutely blissful – it feels effortless and near-perfect. We also know, however, that skiing or snowboarding can sometimes feel the opposite: effortful. The gear, the travel, the – let's face it – schlepping can all be hard work.
Not at the Telluride Ski Resort, though. Telluride has made getting around, getting on the slopes and enjoying your time here in the San Juan Mountains of southwestern Colorado not only easy, but fun. Seriously easy and fun. Here's how:
Getting to Telluride is sooooo easy. Together, Telluride/Montrose Airport (MTJ) and Telluride Airport (TEX) are served by 15 direct flights from 11 major American cities, including daily service between Denver (DEN) and TEX via United Airlines partner Denver Air Connectionn.  Montrose is an outrageously scenic, 65-mile drive from Telluride. And TEX? It's less than 10 minutes from touchdown to the slopes.
GO CAR FREE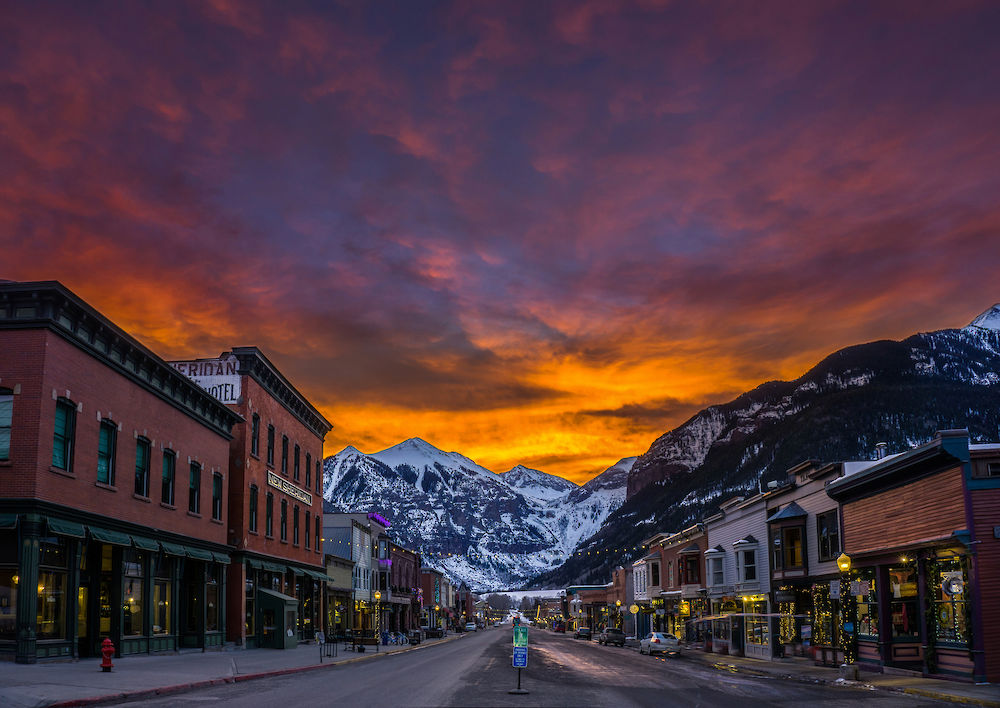 Once you arrive in Telluride, there is no need for a car. The town of Telluride is just eight blocks long, so everything is within walking distance. If your legs are tired from a long day on the slopes, hop on the Galloping Goose, a free, eco-friendly shuttle that loops through town every 10 minutes. You can hail it from any street corner on its route. The center of Mountain Village is pedestrian free and served by a free Dial-A-Ride car service.
GRAB THE GONDOLA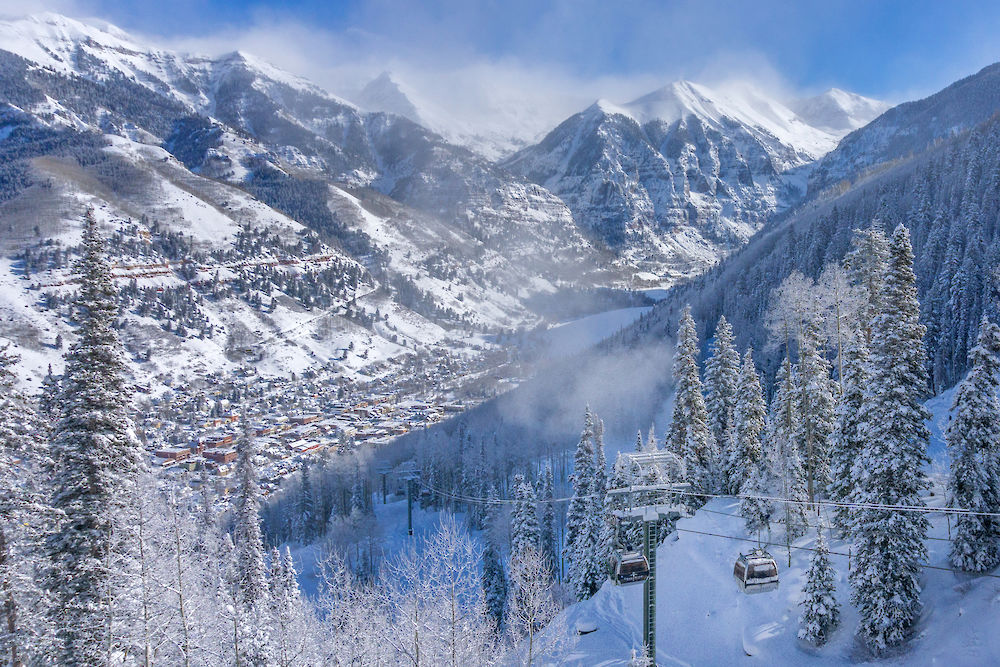 Traveling between Telluride and Mountain Village? Congratulations! You get to ride the free Gondola, which connects the two towns and the Telluride Ski Resort. The only public transportation of its kind in North America, Telluride's beloved "G" is pet friendly and ski-, snowboard-, bike-, stroller- and disabled-accessible. It's also eco-friendly, fun and offers unbelievable views and an unforgettable "commute".
HIT THE SLOPES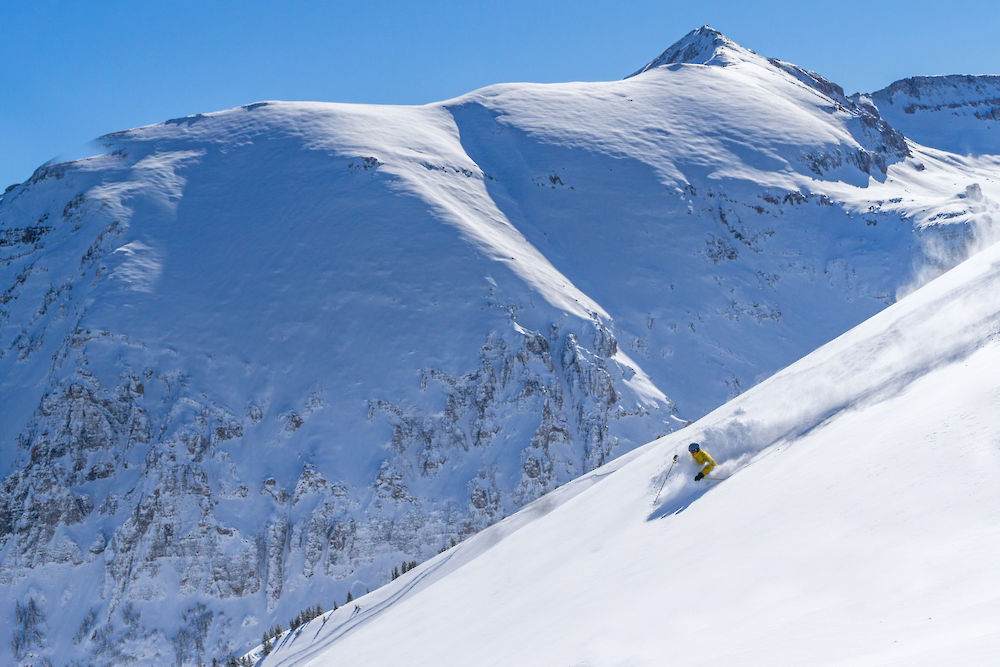 The Telluride Ski Resort is perfect. First, there won't be crowds or a lift line in sight. Second, it has a sweet balance of terrain – 23 percent beginner, 36 percent intermediate and 41 percent advanced/expert. Comfiest on corduroy? Beginners and advanced beginners should head for Double Cabins off Lift 10. This wide-open, uncrowded groomer affords views all the way to the La Sal Mountains of Utah, 100 miles away.
Hot for some hair-raising hike-to terrain? Telluride's Gold Hill chutes are famous – or maybe infamous, depending on the kind of day you're having – and offer some of the steepest terrain in North America. Access is via Revelation Lift and, depending on which chute you want to access, are a short or moderate hike.
Are you an intermediate who wants the full mountain experience? Ride Lift 6, enjoy lunch – and the views – at locals' favorite Giuseppe's and then ski the aptly named See Forever all the way down.
EXPERIENCE OFF-MOUNTAIN TELLURIDE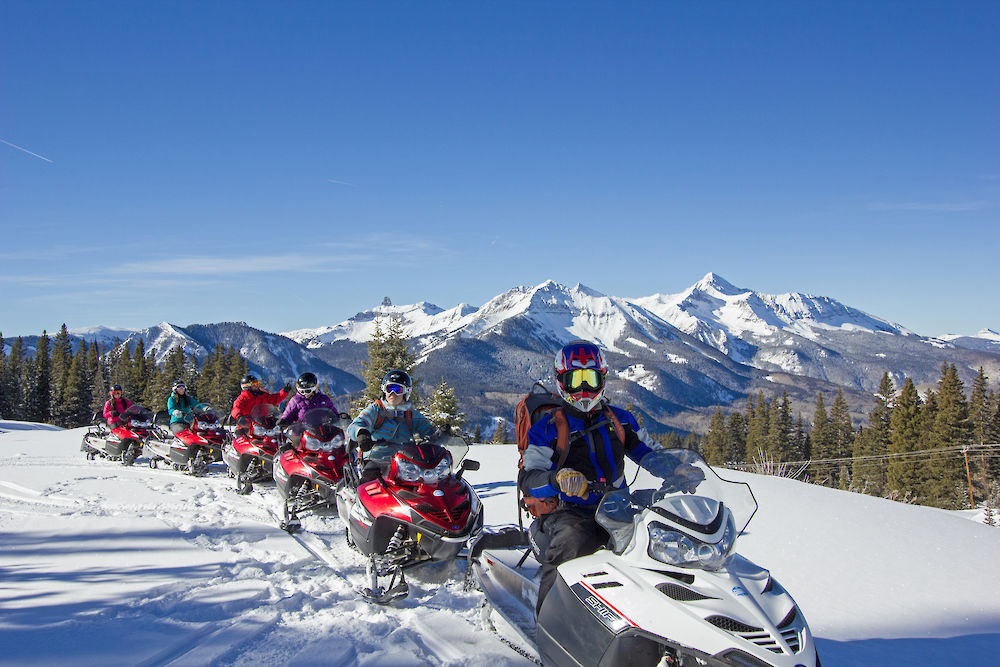 Sure, you're here to enjoy the award-winning, world-class Telluride Ski Resort, but be sure to take a day or two off the slopes. Explore Telluride's unique and colorful history with a snowmobile tour to a mining-era ghost town. Visit the Telluride Historical Museum – located in an old miners' hospital – or take one of the museum's walking tours. Telluride is a Colorado Creative District and its arts scene awaits discovery. Enroll in an art class at the Ah Haa School, or check out the Sheridan Opera House, Michael D. Palm Theatre or Club Red for a concert or theatrical production. Craving activity? Visit a local outfitter to ice climb, heli-ski, flyfish, Nordic ski or snowshoe. Even the Wilkinson Public Library is an award winner. Stop by the library where you can check out snowshoes or – our fave – a karaoke machine for a few days.
GET FED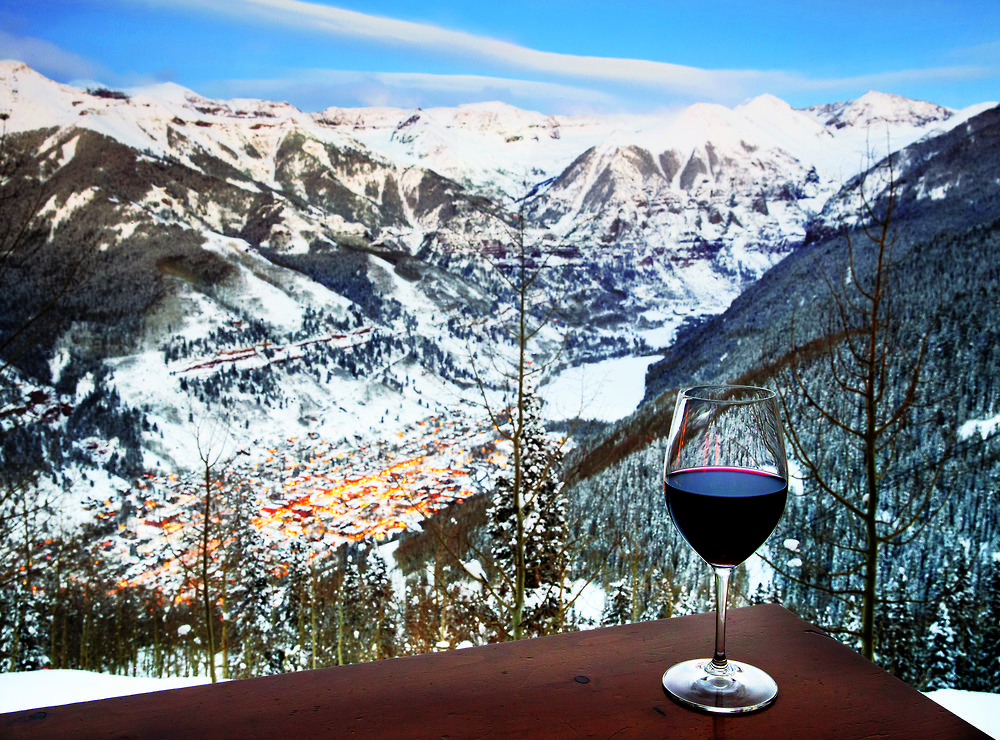 Dining in Telluride can be whatever you want it to be, both on the mountain and off it. Gourmands can find haute cuisine, complete with an enviable wine list, innovative menu and the freshest, finest ingredients prepared by talented chefs. We're thinking of Allred's, 221 South Oak, the Cosmopolitan, La Piazza del Villagio or the Chop House at the New Sheridan Hotel.
Families will discover that even Telluride's kid-friendly eateries offer really good, really delicious food that won't leave the adults enviously eyeing the fancy place across the street. Really, anyone looking for more casual fare needn't worry. Whether it's authentic Mexican (Esperanza's or La Cocina), genuine southern barbecue (Oak, where the owner is an Alabama native who knows his BBQ), creative burgers and salads (Smuggler, Black Iron Kitchen or Floradora) or award-winning pizza (Brown Dog and High Pie Pizzeria), in Telluride and Mountain Village, it's going to be out of this world.
RELAX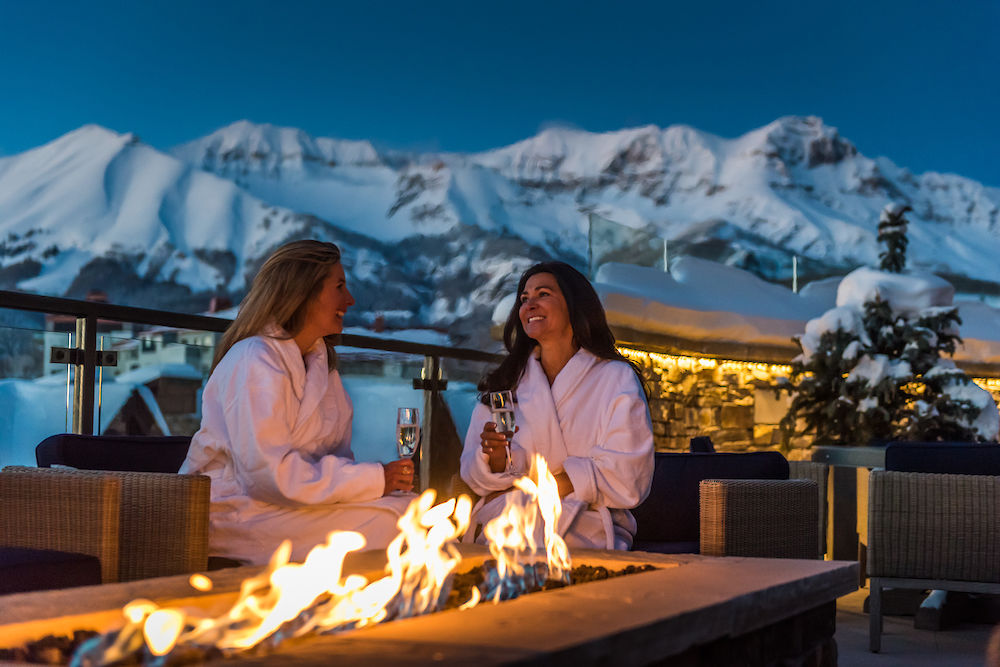 It's hard to know where to start with options for relaxation and wellness. Telluride and Mountain Village have a number of fitness centers offering a friendly and supportive environment. Get your sweat on at the hot yoga classes at Mangala Yoga, loosen those legs in a Pedal Den spinning class or get your ass kicked – in a good way – with a conditioning class at Telluride Fuel.
Local spas and salons are staffed by knowledgeable professionals who somehow also manage to be unintimidating and welcoming too. Try Pure Beauty and Wellness Spa, Studio G or the spas at the Madeline Hotel and Residences or the Peaks Resort and Spa for a range of services, like massages, aromatherapy and beauty and wellness treatments. Pure, for instance, also has an authentic, European-style salt cave. The Madeline and the Peaks both offer guests a heated outdoor pool with – you guessed it – exquisite views. The Mountain Lodge does too, with diners at the hotel's restaurant also welcome to take a dip.
BOOK IT
No matter where you stay, you'll be on the slopes in a jiffy. The majority of accommodations in Telluride and Mountain Village are ski in/ski out. For a luxe, boutique hotel slopeside, try Lumière with Inspirato in Mountain Village. In Telluride, the Camel's Garden, Hotel Columbia and Dunton Town House are quietly elegant and just steps from the Gondola. Telluride and Mountain Village's hotels also offer a friendly-but-professional ski valet service. The ski valets at the Peaks Resort and Spa, for example, provide a "no-touch service" that means your only job is stepping into your bindings. At the Fairmont Franz Klammer Lodge, the ski valets pre-warm boots, give updated info on conditions and offer complimentary sunscreen and glove heaters.
Start planning your Telluride trip today at visittelluride.com or call (855) 350-2454.
View All Blogs