Telluride Weddings=Love
A Telluride wedding is everything we love about mountain weddings. First, there's the jaw-dropping natural beauty that makes for a stunning backdrop. Plus, there's the range of local venues that run the gamut from rustic to sophisticated to historical. Then, there are Telluride's event planners, caterers, photographers and more – professionals who know how to take a couple's dreams and turn them into highly personalized reality.
And, of course, there's Telluride itself. Historic, charming, laidback and really, really fun, whether your celebration lasts a day, a weekend or longer, in this picturesque mountain town there will be plenty to do, see and enjoy for everyone.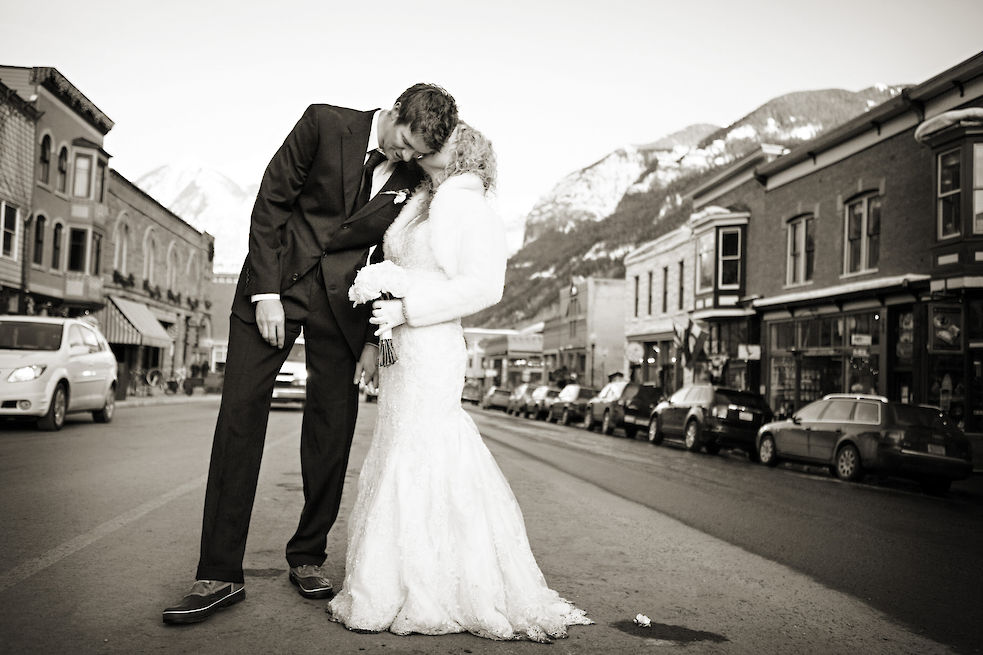 First, let's talk natural beauty. Nestled high in the San Juan Mountains of southwestern Colorado, Telluride sits among the highest concentration of 13,000- and 14,000-foot peaks in North America. The setting is pretty spectacular and wholly unspoiled. It makes for a stunning backdrop for both the ceremony and the photos, and offers a "wow" factor that family and friends won't soon forget. Try a town-based wedding for those iconic main street photos with Ajax, the mountain that towers over the east end of the box canyon, hovering in the background. Or the Telluride Ski Resort or one of the mesas outside of town for 360-degree views that take in the glorious San Juan Mountains.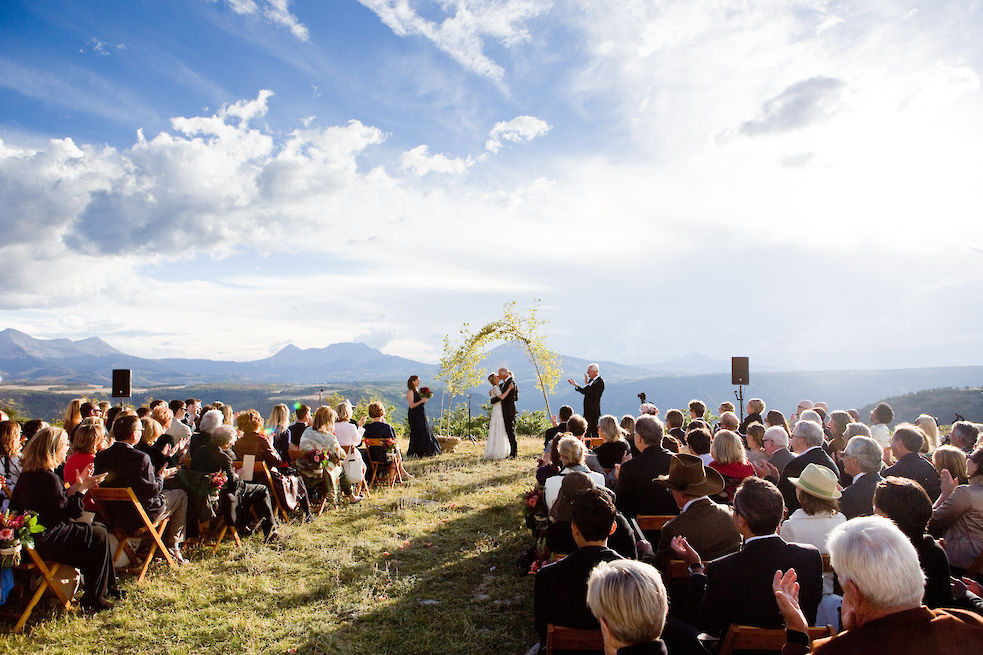 Those views are accessible from any of the various locales available to couples. Schmid Ranch or one of the mesas west of town is perfect for a joyful summer afternoon's ceremony made colorful with wildflowers, aspens and Colorado's famed bluebird sky. In town, the Sheridan Opera House or Ah Haa School for the Arts are quirky, historic landmarks that make for a truly unique venue. Pair either of these in-town spots with a fun and funky parade down main street after the ceremony.
And then there are the stunning venues offered by the Telluride Ski Resort. Each is distinct and unforgettable. For high-altitude sophistication, Alpino Vino – at 12,000 feet above sea level, it is the highest restaurant in North America – is elegant and charming, and utterly memorable with the wedding party and guests arriving on a luxurious converted snowcat.
Mid-mountain, Gorrono Ranch, a timber-framed structure on what was once the Gorrono family's sheep farm, offers lovely, rustic indoor and outdoor spaces with the Wilsons – Wilson Peak, El Diente and Mount Wilson – towering in the background. The outbuildings are also available for the bride and groom and their parties, and are sometimes used as dressing rooms or for fun options. Our favorite? A pre-ceremony whiskey tasting.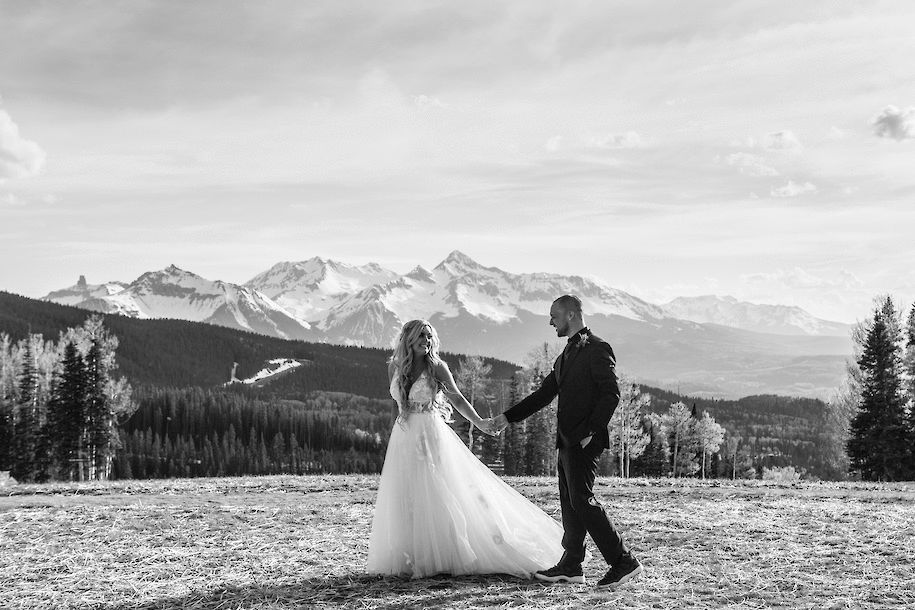 San Sophia Overlook might just be the most outrageously beautiful wedding venue in the world. An outdoor space that sits on a ridgeline near the Gondola's mid-station, the overlook includes a deck for the wedding party and a flat, grassy area where seating can be arranged for guests. It offers a bird's eye view of the town of Telluride, nestled nearly 1,800 feet below, and across the box canyon to the peaks to the north, as well as west to the Wilsons. Guests arrive on the Gondola, making a San Sophia Overlook wedding both gorgeous and unique.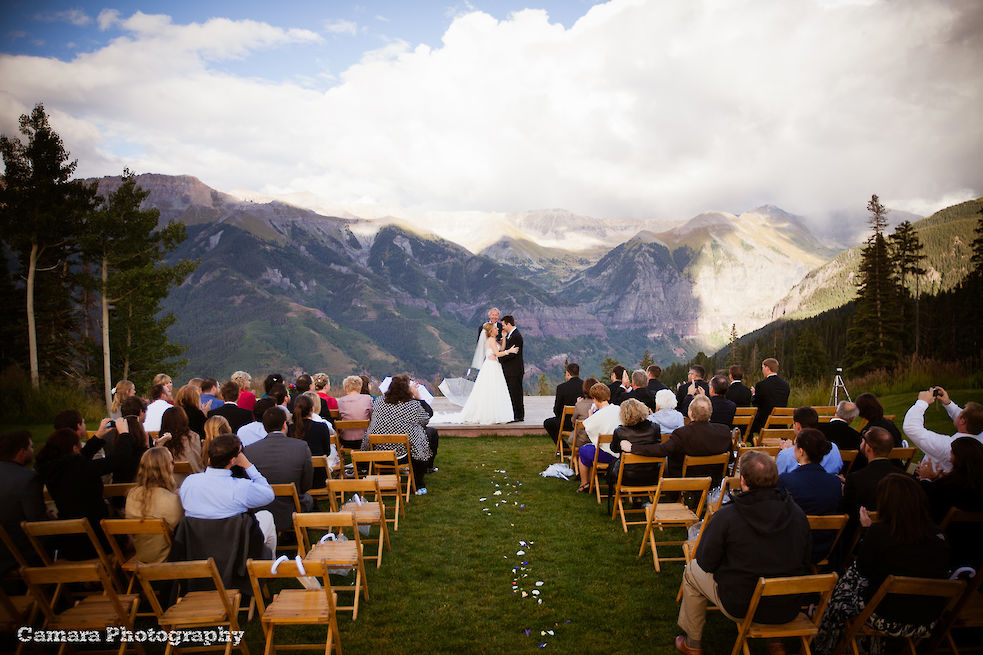 Elegance awaits at two of the ski resort's restaurants: Allred's is a spot full of ambiance perched alongside the Gondola mid-station and occupying a lovely timber-and-stone building that features incredible views of town below and across the canyon that Telluride calls home. The Peaks, alongside the golf course, boasts striking indoor and outdoor spaces, as well as 360-degree views. Best of all? It's a full-service hotel, offering the wedding party and guests lots of options for lodging, enjoying the spa and indoor/outdoor pool, and more.
Lots of options, for sure, so how to navigate? Luckily, Telluride's wedding planners are, well, awesome. They include an award-winning, nationally recognized planner and a planner who is a fifth-generation Tellurider. All are skilled professionals who combine creativity, energy and a genuine affection for their clients and this place. They are aided in their work by a cadre of caterers, wedding cake designers, photographers, musicians and DJs and others who practice their craft in a place they love.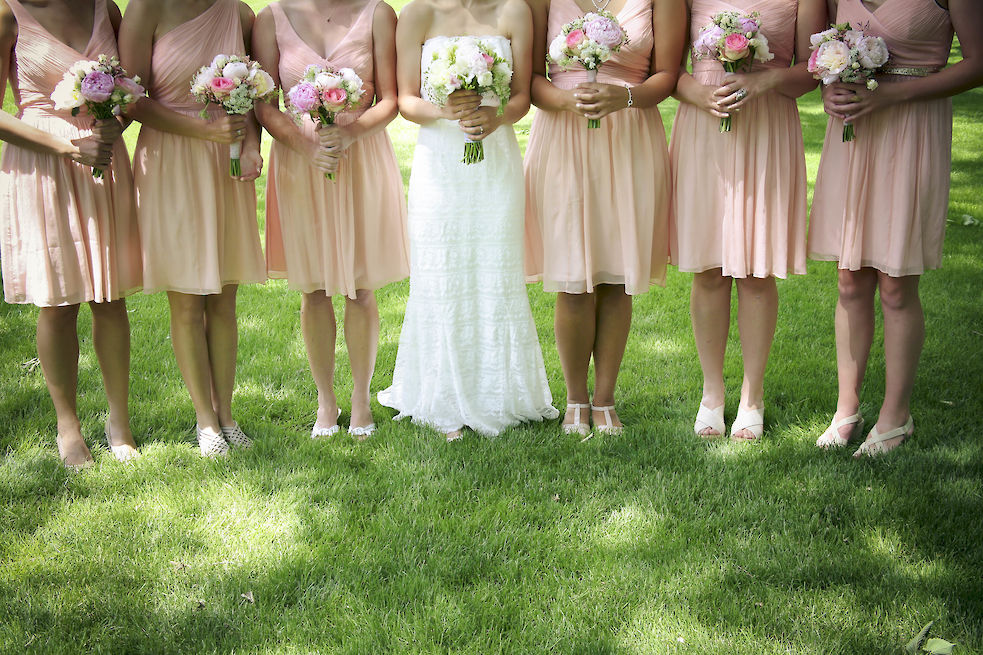 So, let's chat about chat about the town. Telluride is many things: historic and beautiful with a charming and laidback vibe, fun bar scene, foodie-friendly dining scene and lots of outdoor activity. Guests at summertime weddings can spend their spare time jeeping, hiking, biking, fishing or simply floating down the San Miguel River in an innertube. Wintertime guests can ski or snowboard on the Telluride Ski Resort, or explore Telluride's winter wonderland by snowmobile, snowshoes or Nordic skis.
By night, the wedding party and guests can head to delicious restaurants that run the gamut from pizzerias and barbecue joints to fine dining with sophisticated menus that range from French to northern Italian to mountain cuisine and more. Then it's time to experience Telluride's famed nightlife, or snuggle up in front of a roaring fire and get ready for the big event.
Maybe, though, what you really need to know about a Telluride wedding is this: Much like Telluride itself, a Telluride wedding can be whatever you want it to be. Just bring your friends and family and get ready for a day to be cherished and remembered always.
Telluride will do the rest.
View All Blogs