Telluride Ski Tree: From An Idea to a Holiday Tradition
A Telluride tradition was born on December 7, 2013 - The Telluride Ski Tree. 
Local Ted Wilson first got the idea for the Telluride Ski Tree while on a trip in Kennebunkport, Maine, where they're known for their lobster trap Christmas tree.
"In one of our countless meetings about Holiday Prelude and more Christmas lights in town, we were talking about these lobster trap trees and I just threw it out there that Telluride needed something similar that recognized our culture, like a Christmas tree made out of skis," Wilson says.
And thus, the Telluride Ski Tree was born in Elks Park.  
Now, every year during Noel Night, the Telluride Ski and Snowboard Club (TSSC) lights the tree to usher in the holiday season. 
"TSSC is so proud to be carrying ton the torch for this super special and unique piece of Telluride's culture," says Anne-Britt Ostlund Schenk, programs manager and controller for TSSC. "They say 'it takes a village' to accomplish anything of meaning, and it is so true, we have an amazing village here in our Telluride and to come together to celebrate our love of snow is just … so fun and heartwarming and a reminder that we have each other, we are so lucky to live in such a tight knit, caring mountain town."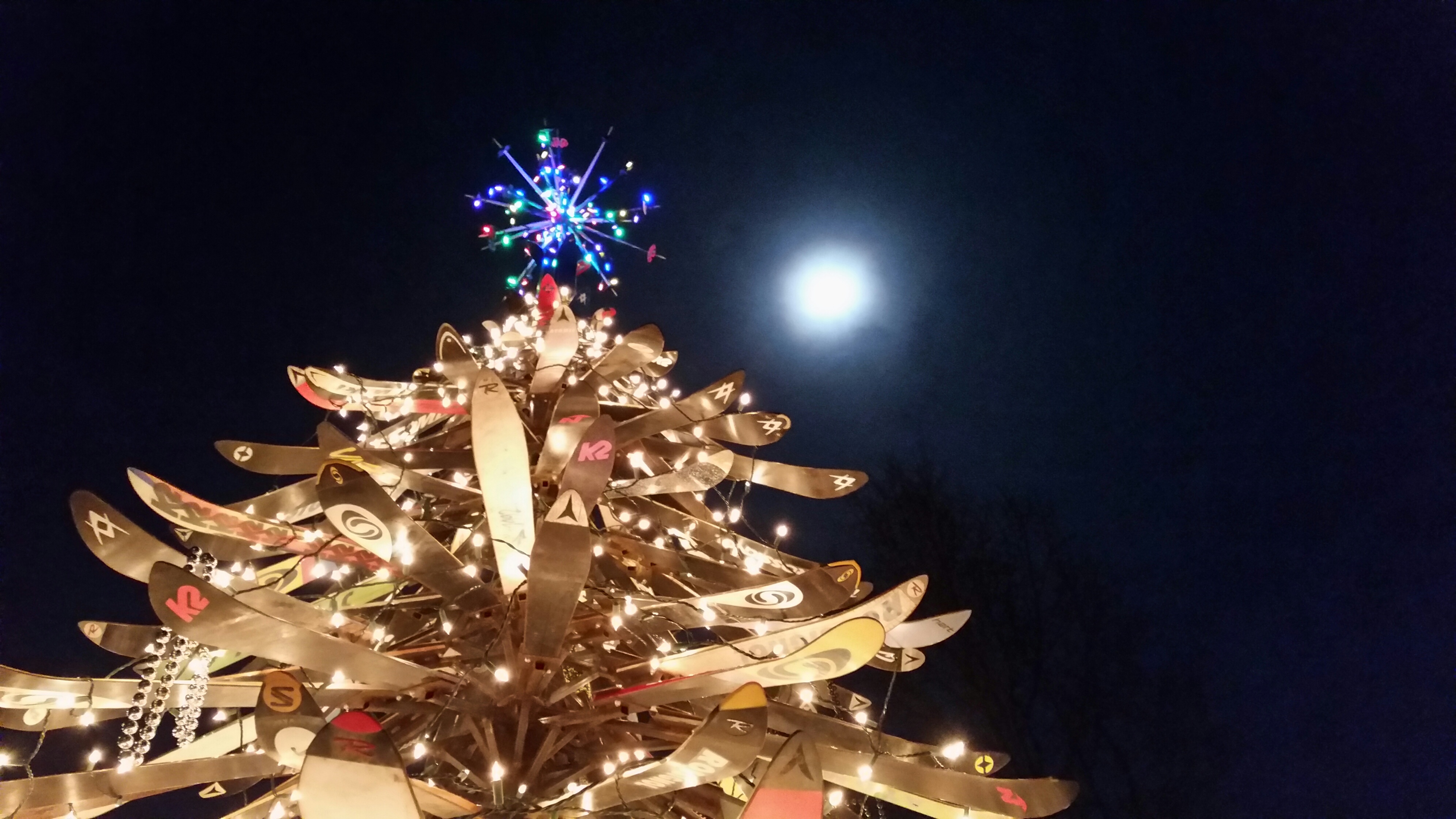 While it's easy to admire now, building the Ski Tree was no walk in the park. 
"Once the town gave the thumbs up, we put out the call to locals to drop off their old skis to be used on the tree - and we ended up with a huge pile," says Wilson. "Though if we were able to do it all over again, we'd ask people to remove the bindings first!"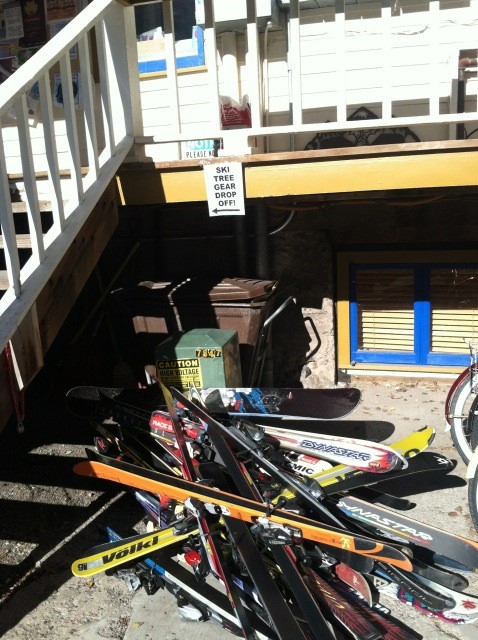 Local artist Anton Viditz-Ward was hired to create the tree, and Wilson, Daiva Chesonis, John Wontrobski, Will Thompson, Timmy Territo spent hours stripping the old bindings off in order to get the skis ready for production. 
"The coolest aspect is that they all belonged to locals," says Wilson. "Some locals donated skis that belonged to family members who had passed away, as a unique way to honor them. A lot of those skis have a lot of memories in them..."

Once the skis were stripped, Viditz-Ward got to work. 
"The shape and look of it is perfect - and when you stand at the tree and look at the amount of cutting, welding, and functional design (so Public Works can move it every year) that went into it, not to mention the star on top made from ski poles... it's no wonder it's probably the most photographed thing in town in the winter," says Wilson. 

When it first debuted in 2013, the Telluride Ski Tree was shorter than its current height by almost half, and they decided it could definitely be bigger. They had enough skis donated and so in 2014, decided to make it larger. Now, the tree is 17 feet tall, has five, 60-foot strands of lights and typically takes public works and TSSC two hours to get it fully set up (weather-dependent). Click here to watch a timelapse of it being assembled. 
"That tree is always a reminder to me how this town can really come together and do cool things when it wants to," Wilson says. "It was a simple little idea - a Christmas tree made out of skis - but it took the whole village to build it. Ha, a little sappy but that's what the holidays are for, right?
"Hopefully it just brings some holiday spirit to people who stop and take it in - and I'm sure it does - it's still the coolest Christmas tree I've ever seen."
View All Blogs