Tell-U-Right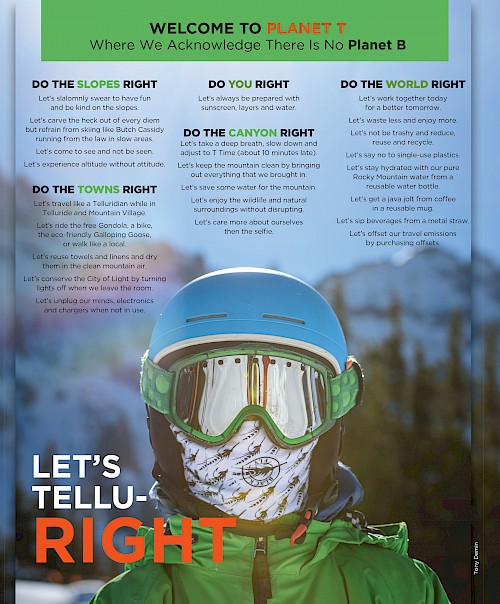 Welcome to Telluride. Please join us in following these recommendations to maximize your vacation while minimizing your impact.
DO THE SLOPES RIGHT
Let's slalomnly swear to have fun and be kind on the slopes.
Let's carve the heck out of every diem but refrain from skiing like Butch Cassidy running from the law in slow areas.
Let's come to see and not be seen.
Let's experience altitude without attitude.
DO THE TOWNS RIGHT
Let's travel like a Telluridian while in Telluride and Mountain Village.
Let's ride the free Gondola, a bike, the eco-friendly Galloping Goose, or walk like a local.
Let's reuse towels and linens and dry them in the clean mountain air.
Let's conserve the City of Light by turning lights off when we leave the room.
Let's unplug our minds, electronics and chargers when not in use.
DO YOU RIGHT
Let's always be prepared with sunscreen, layers and water.
DO THE CANYON RIGHT
Let's take a deep breath, slow down and adjust to T Time (about 10 minutes late).
Let's keep the mountain clean by bringing out everything that we brought in.
Let's save some water for the mountain.
Let's enjoy the wildlife and natural surroundings without disrupting.
Let's care more about ourselves then the selfie.
DO THE WORLD RIGHT
Let's work together today for a better tomorrow.
Let's waste less and enjoy more.
Let's not be trashy and reduce, reuse and recycle.
Let's say no to single-use plastics.
Let's stay hydrated with our pure Rocky Mountain water from a reusable water bottle.
Let's get a java jolt from coffee in a reusable mug.
Let's sip beverages from a metal straw.
Let's offset our travel emissions by purchasing offsets.
View All Blogs