Picturesque Proposals in Telluride
Nestled at the end of a box canyon and surrounded by the greatest concentration of 13,000 and 14,000 foot peaks in North America, Telluride creates a stunning backdrop for a place to propose. There are so many great stories of couples who have gotten engaged in Telluride in very creative ways. Here are some of our favorites:
CHRIS & BECCA LEWIS // JUD WIEBE & GREY HEAD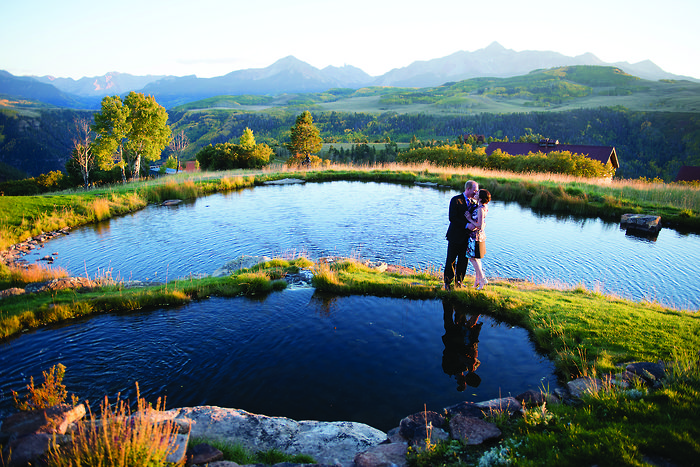 Hiking one morning, the couple talked about favorite past trips to Telluride. Chris remarked that his favorite was the one where they turned their vacation into a honeymoon and then asked Becca to marry him. When she said yes, Chris pulled out an itinerary that included dress shopping, a spa appointment and car pick-up for 5 p.m. that same day. Turns out Chris had planned their wedding in secret for months. The pair were married that evening at Grey Head in what Becca describes as the "most perfect ceremony".
VINCE DRAVECKY & KENDRA HEDLUND CHIPETA SOLAR SPRINGS RESORT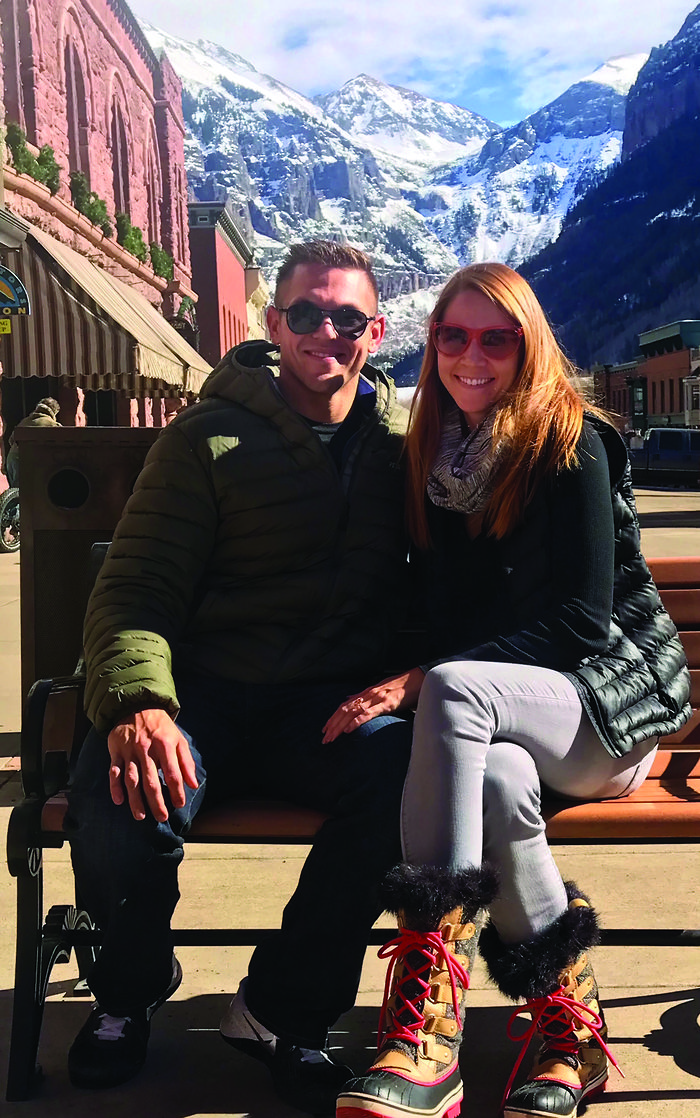 Kendra's Telluride roots are deep. Her great-grandfather and paternal grandfather were miners here; her maternal grandparents are well-known locals Jack and Davine Pera; and her parents, Jon and Kerry Hedlund, grew up in town. It was only natural, then, that Vince chose this area as the setting for his proposal, at Chipeta's rooftop hot tub with the San Juans towering in the distance. The pair return in August for their wedding at San Sophia Overlook.
LEA GULBRANSON & SEAN RICHARDS  //   MAIN STREET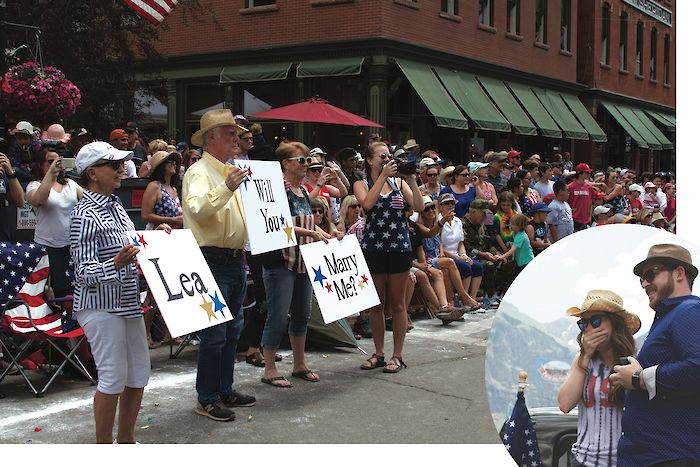 Sean, grandson of former resort owners Ron and Joyce Allred, has a special connection to the town's Fourth of July parade, founded by Joyce. Last summer, he and Lea took part in the procession, riding in the back of Ron's 1949 Chevy truck. The truck paused at the courthouse and the parade emcee asked the couple to stand as family members held signs that read "Will you marry me?"
CHET & MELISSA FALK  //  BRIDAL VEIL FALLS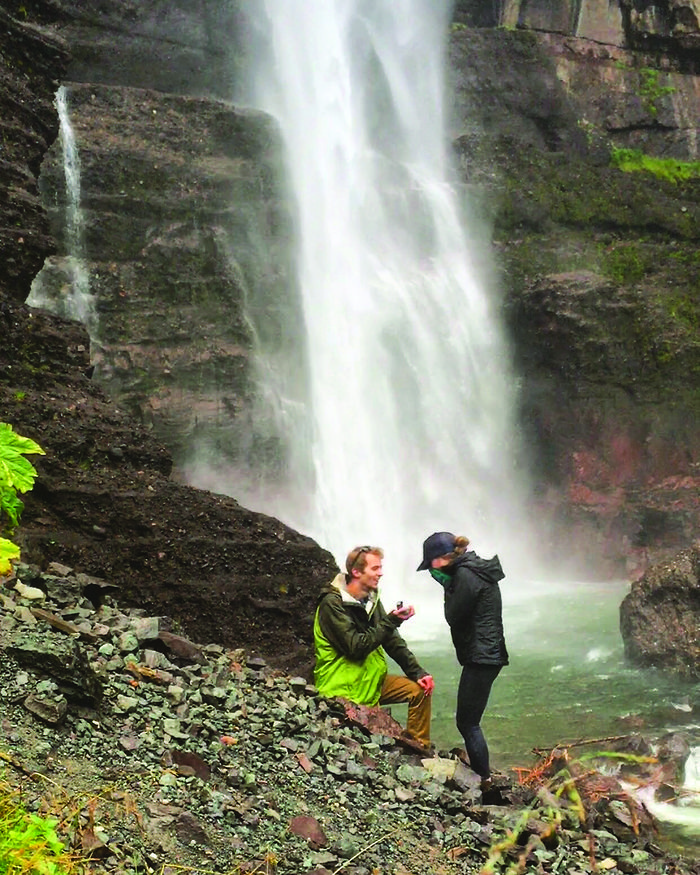 The pair, together since high school, hiked to the base of the falls one morning where they had the place to themselves. Chet set his camera up on a rock to take photos, or so he said. In reality, he was record-ing the big moment. Melissa said yes and the couple celebrated with brunch. Nine months later they were married at Gorrono Ranch.
DANIEL & HAILEY SCOTT  //  JUD WEIBE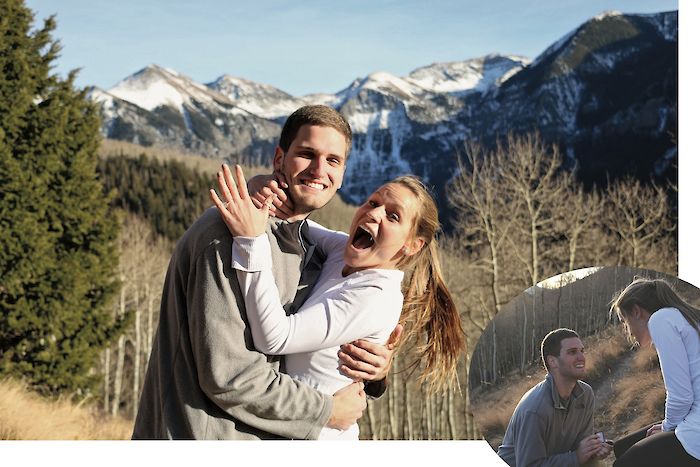 These college sweethearts were in town to celebrate Thanksgiving with Hailey's family, who have a second home here. With his soon-to-be fiancée unaware, Daniel marshalled his soon-to-be in-laws to help. Hailey's sister, Michelle, and cousin, Meredith, – who doubles as Hailey's bestie – headed up the Jud Wiebe to set the scene, while Mom and Hailey's brother, Davis, kept Hailey busy. Eventually, the couple hit the trail, arriving at a bench with a ring on it where Dan proposed. They return this summer to be married on the ski resort.
DEREK & KACIE CROWE  //  HOPE LAKE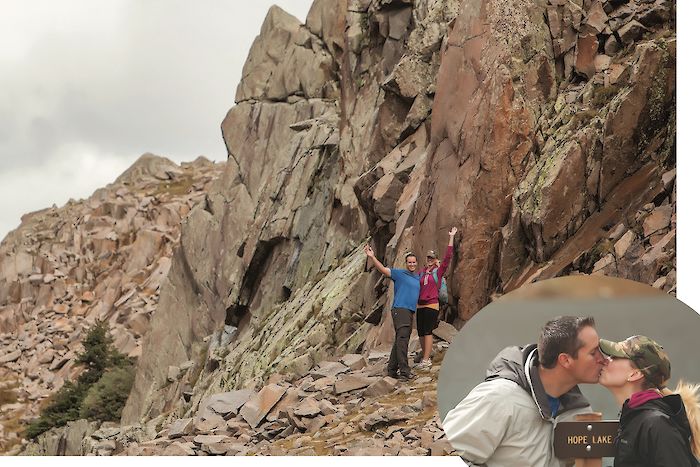 Telluride has a supporting role in this story. It was the location of Kacie and Derek's first trip together, a trip where they fell in love. It is somewhere they visit frequently. And, over Blues and Brews weekend in 2013, it served as the location for their engagement when a seemingly ordinary Hope Lake hike culminated in Derek's lakeside proposal. In on the surprise and popping open some bubbly after Kacie said yes were family – Derek's brother and his wife are locals – and friends like Telluride photographer Kaycee Joubert, who chronicled the whole thing.
JEFF & KRISTIN TYSON  //  BEAR CREEK FALLS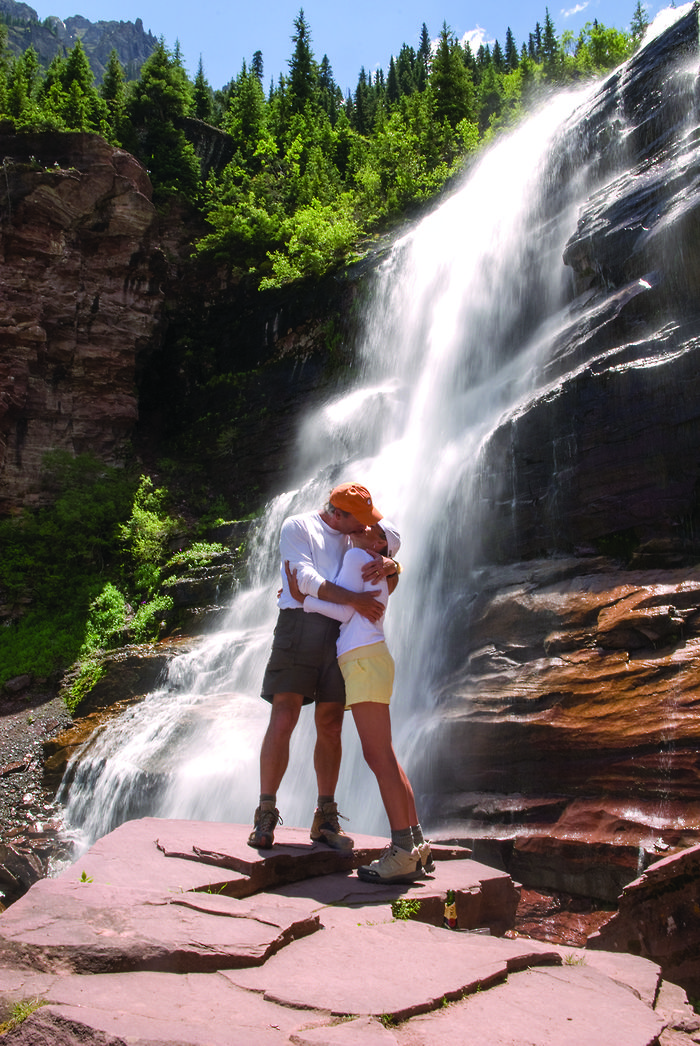 Jeff's plan? He would propose to long-time love Kristin at Upper Bear Creek Falls. She would say yes. Local Judge Sharon Shuteran would be there to marry them on the spot and Telluride photographer Melissa Plantz would capture it all on film. Did he pull it off? Despite cancelled flights, tornado warnings in Denver, a diversion to Cortez and some missing luggage that necessitated a Free Box run, yes, he did.
View All Blogs