Off Slope Adventure in Telluride
Sure, you came to ski the Telluride Ski Resort — named the no. 1 ski resort in North America for the sixth time in the last seven years by Condè Nast Traveler readers — but don't leave without a day off the mountain for an adventure you'll always remember. Hop on a snowmobile and explore the relics of Telluride's mining days. Grab a local guide and a pair of snowshoes to experience mountain terrain in a different way. Or fat tire bike or Nordic ski along the snow-clad Valley Floor to see if you can spot an elk or lynx. All are sure-fire memory makers. If comfort is your pleasure, board the Gondola and catch the scenery on a free ride between Telluride and Mountain Village. 
SNOWMOBILING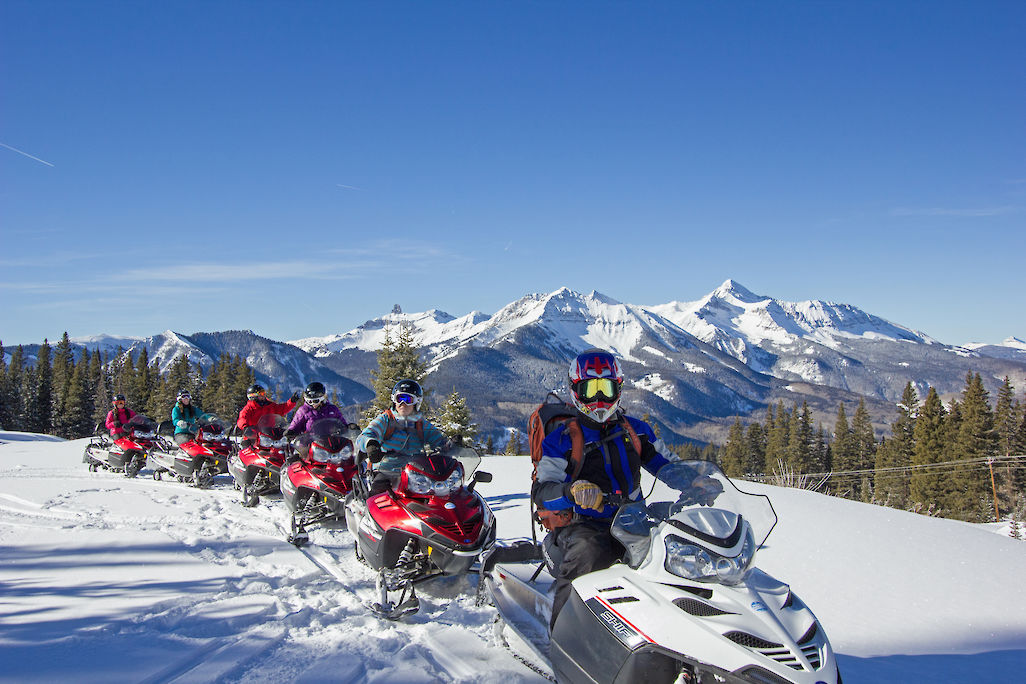 Get your motor running on an extensive network of trails that has created a snowmobiler's paradise. Explore stunning landscapes, as well as ghost towns and relics from Telluride's mining days. Local outfitters offer half-day or full-day tours for all abilities.
HORSEBACK & SLEIGH RIDES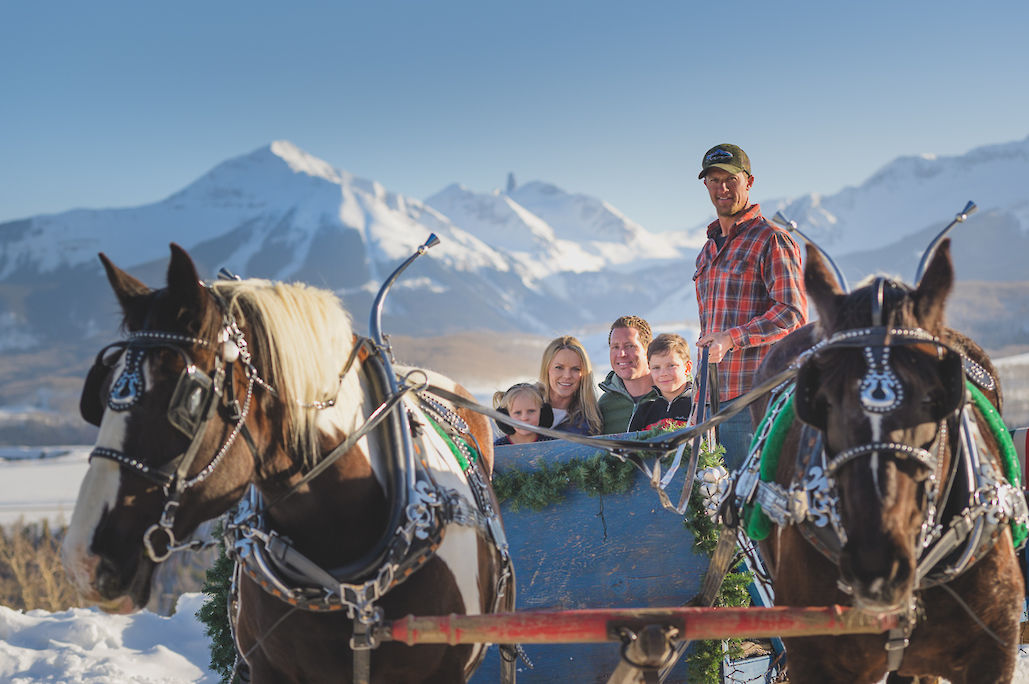 Slip on your cowboy boots and Stetson and enjoy a sleigh or horseback ride in the winter wonderland of the San Juans. Ride under a cobalt blue sky or bundle up and star gaze during a dinner sleigh ride, all while embracing the spirit of the Wild West. 
ICE SKATING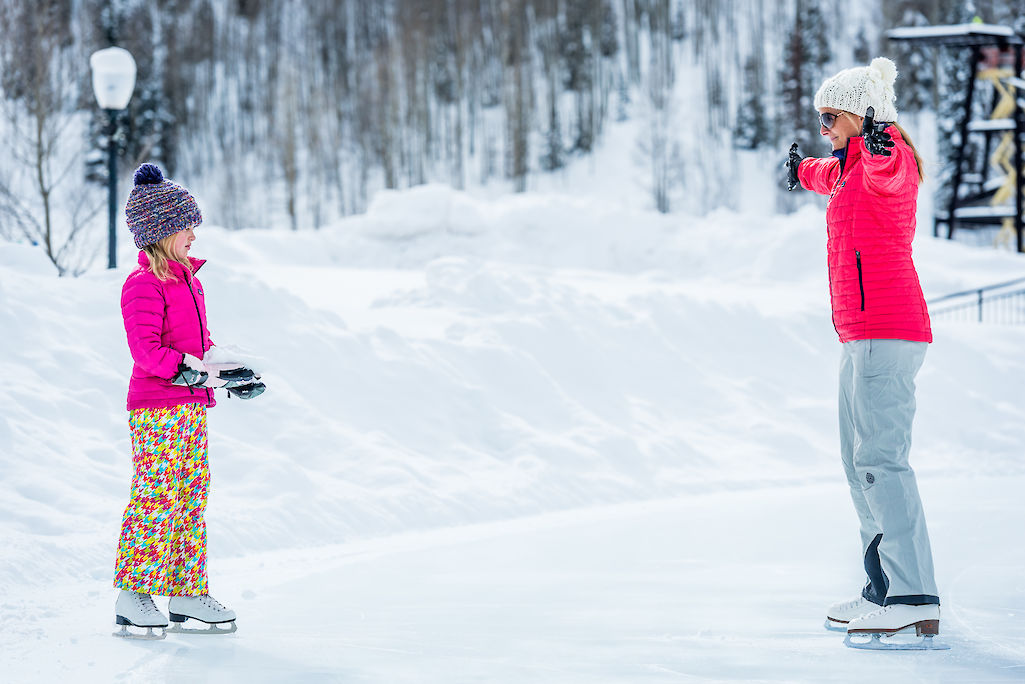 You can enjoy ice skating at any of three rinks. In Telluride Town Park, you'll find a professional-grade indoor hockey rink as well as an outdoor rink, and in Mountain Village you can skate at the Madeline Hotel and Residences' delightful outdoor rink. Ice skate rentals are available at both locations. 
SNOW BIKING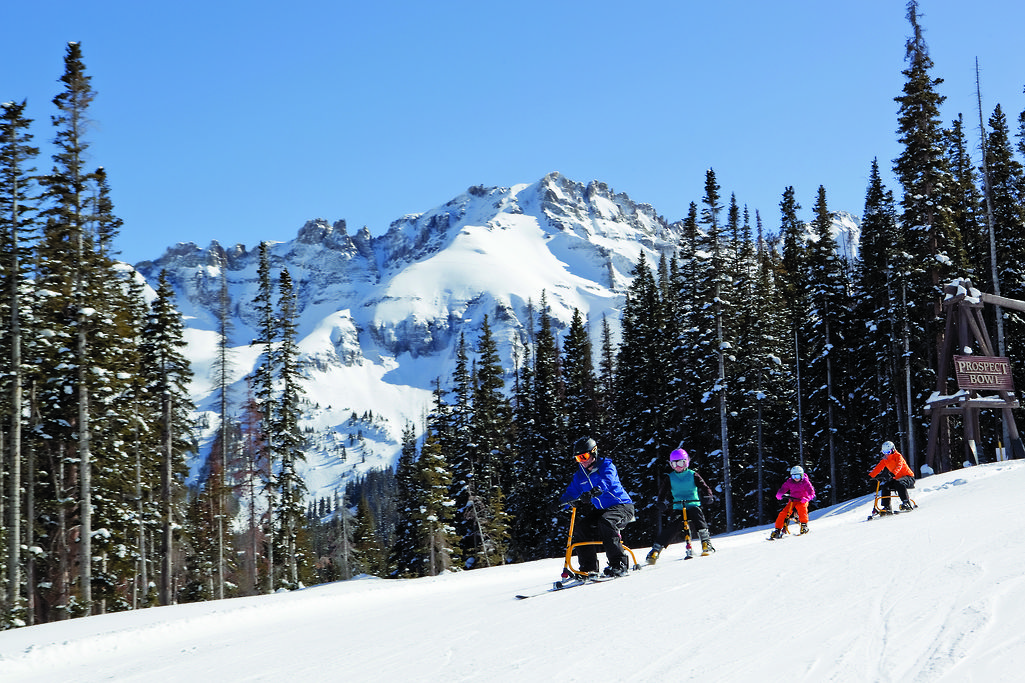 Want to discover the ski resort in a unique way? Try snow biking. A knowledgeable instructor will teach all aspects of riding a snow bike, which has skis instead of wheels. Rentals and certification courses are available through the ski resort's Telluride Adventure Center.
NORDIC SKIING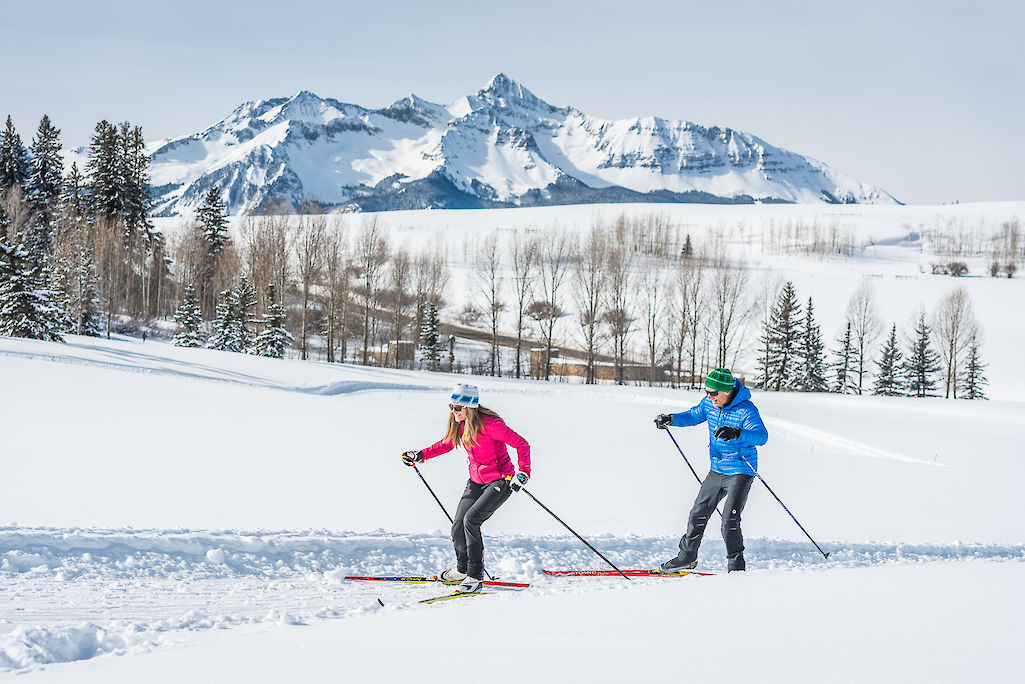 Need a break from downhill skiing and boarding? Nordic skiing in the area offers a change of scenery and a great workout. Groomed tracks can be found in Telluride Town Park, on the Valley Floor, on the golf course in Mountain Village, at Trout and Priest Lakes and on the ski resort. Each area offers various lengths of groomed trails, different terrain and excellent scenery. The Nordic Center in Town Park is a superb resource for trail conditions, lessons and gear rentals. 
KITE SKIING 
Snow sport enthusiasts wanting an extra challenge can soar across the snow and up or down slopes with the pull of a kite. The sport is done with downhill ski or snowboard equipment and a colorful kite. Kite skiers fly through the meadows at Lizard Head Pass, full of wide-open spaces and gorgeous views. Check with a local outfitter for more. 
BACKCOUNTRY HUTS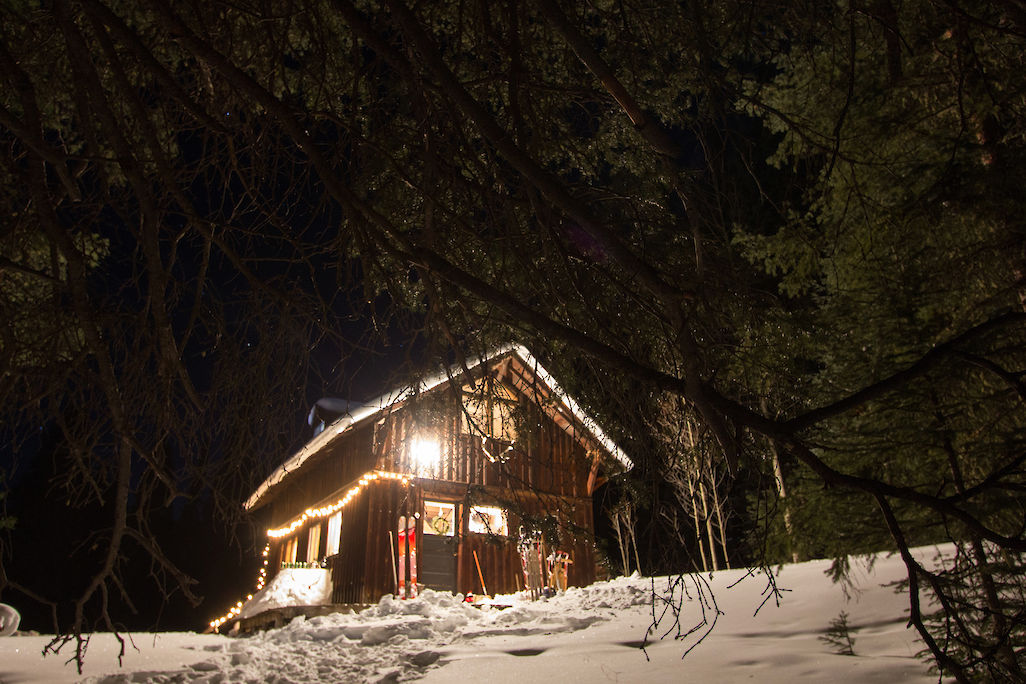 Skiing in the backcountry of the spectacular San Juan Mountains is a true outdoor adventure. Explore and marvel at some of the country's most spectacular off-resort mountain terrain while skiing to a hut or lodge, each stocked with all the amenities necessary for a comfortable winter's night stay. Travel to a single hut or tour hut to hut in the European tradition. Local outfitters can help you plan the adventure of a lifetime.
FISHING
Visiting Telluride in winter doesn't mean you have to leave your rod and reel behind. Many streams and rivers in the region are prime for fishing year-round. Late February to April, the San Miguel River provides excellent fishing opportunities, while farther afield the Uncompahgre River fishes well all winter. Or try ice fishing on the area's lakes and reservoirs. Local outfitters can guide you.
SNOWSHOEING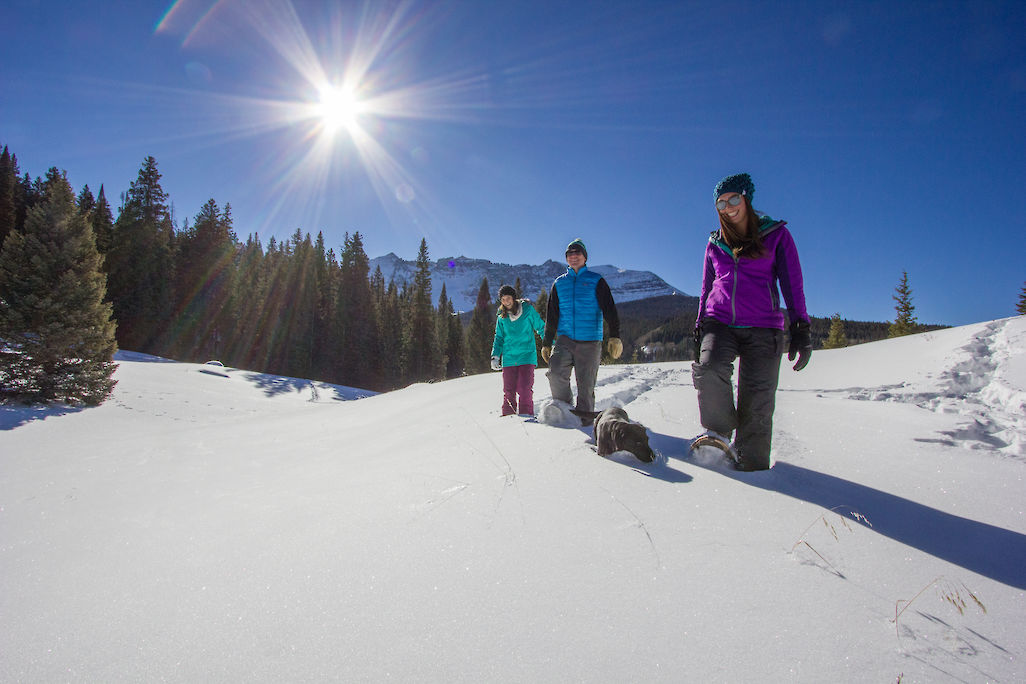 When the whole family wants to go for a walk in the woods, don't let the powder stop you. Snowshoes offer the freedom to explore many snow-covered places. Easy to learn and fun to do, snowshoeing is an activity for all ages. Choose between a leisurely sightseeing outing or an uphill trek for the perfect cardio workout. Guided snowshoe adventures are available with a number of local outfitters.
HELICOPTER SKIING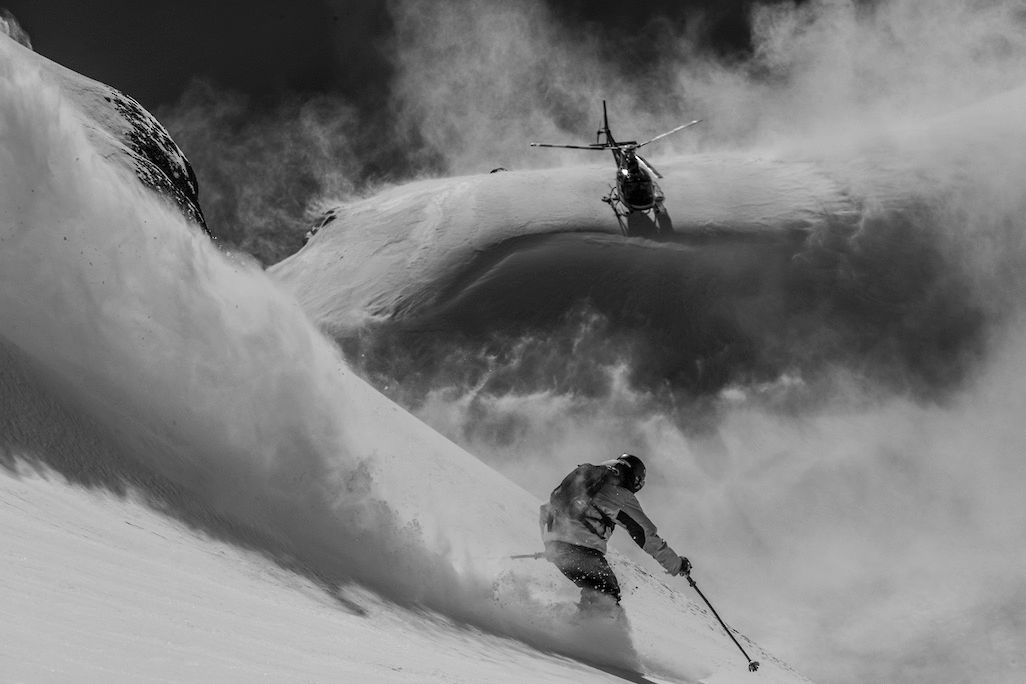 In continuous operation for over 35 years, Telluride Helitrax is Colorado's ultimate heli-ski adventure. With access to over 200 square miles of pristine terrain, Helitrax operates at some of the highest elevations in North America and consistently skis off summits and in high-alpine basins and cirques. The family-owned guide service's proven formula of small groups, exclusive terrain and seasoned staff combine to deliver an unforgettable experience that exceeds expectations while remaining committed to the highest safety standards.
FAT TIRE BIKES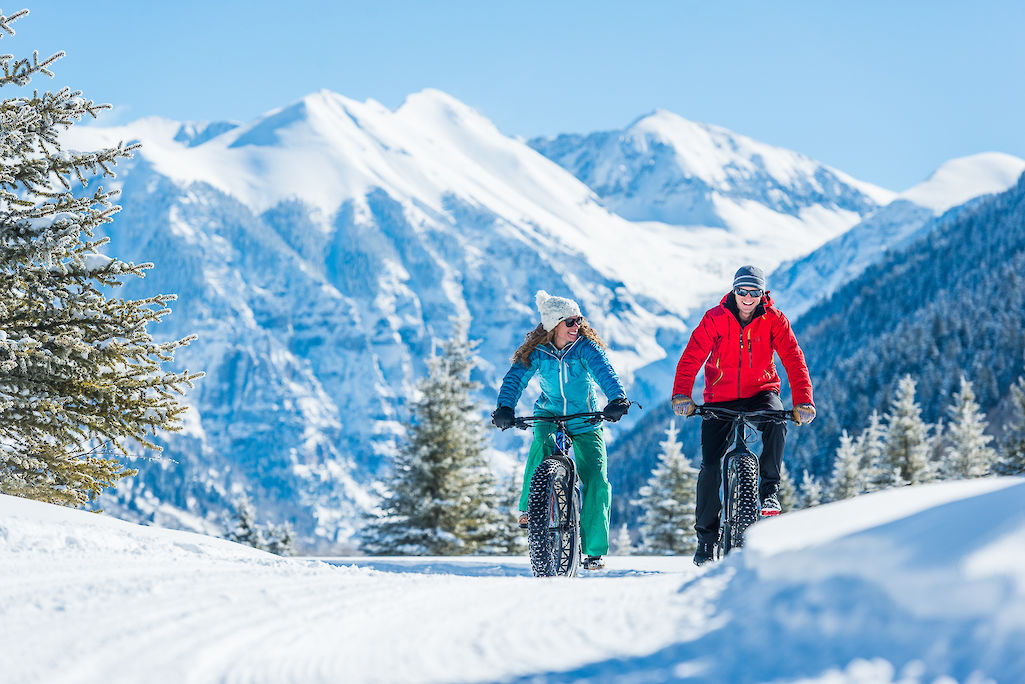 Also called fat bikes, they enable cycling enthusiasts to pursue their passion year-round — even in snow. Take The Valley Floor, the 3-mile stretch of open space at the entrance to town contains the only trails with a groomed track set just for fat bikers. The social rider can exit at the far west end for a stop at the Telluride Brewing Co., Telluride Distilling Co. or eatery Aemono, all in the Lawson Hill neighborhood, before a mellow pedal back to town. Try the Telluride Golf Course: The undulating groomed trails that ribbon over the golf course in Mountain Village are multi-use trails open to dogs, bikes, hikers, snowshoes and Nordic skiers. Enjoy the views of the San Sophia ridge to the north and Wilson range to the west as you catch your breath between the dips and climbs.
ICE CLIMBING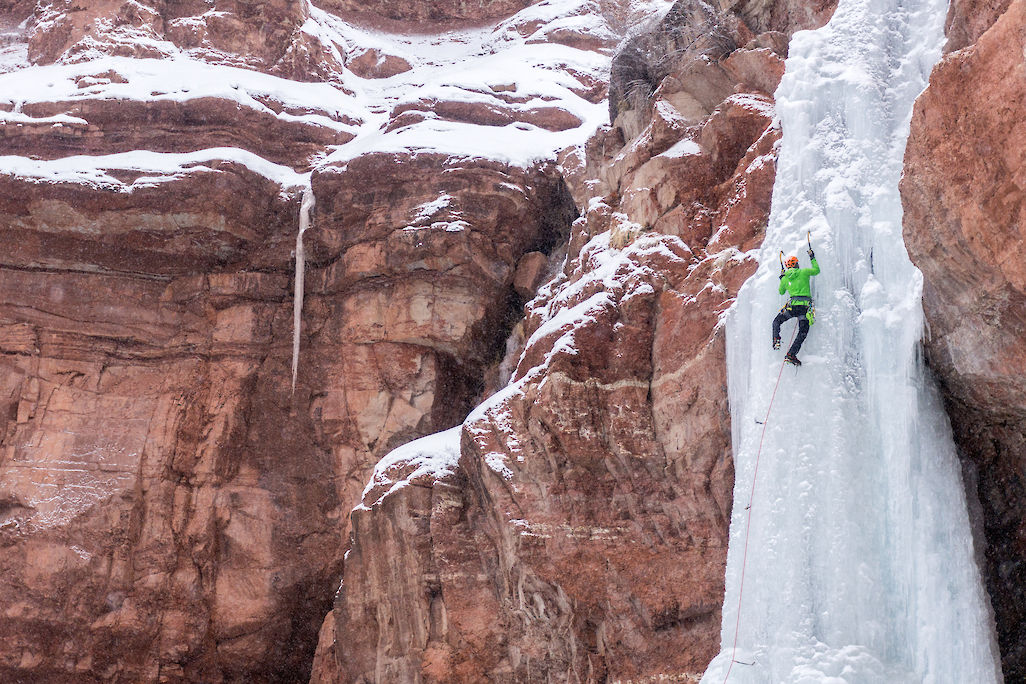 Strap on your crampons and grab your ice axe, the alpine setting of the San Juan Mountains offers world-renowned ice climbing. Regional waterfalls turn to cathedrals of ice once the temperatures hold below freezing. Hiring a local guide is recommended to fully explore winter climbing routes. Lessons are available through outfitters.
Photos by Ryan Bonneau, Tony Demin, and Helitrax
View All Blogs