Make Telluride Your New Year's Resolution
Here's a New Year's Resolution: In 2019, do something unexpected, something truly memorable. Don't talk too much about it, don't put it on a list or daydream about it. Just make it happen.
How? Get yourself to Telluride. Once here, try these memory-makers for unforgettable, once-in-a-lifetime adventures:
THE FULL MOUNTAIN EXPERIENCE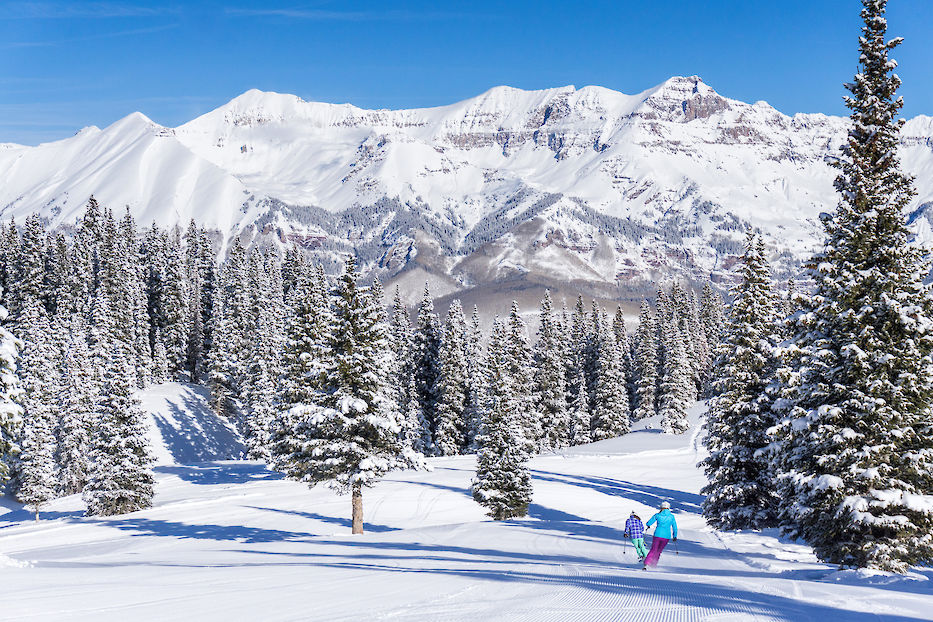 At the Telluride Ski Resort, you don't need to be an expert skier to truly experience the mountain. First, the resort has well-balanced terrain – 23 percent beginner, 36 percent intermediate and 41 percent expert/advanced – meaning there's something for everyone. Even better, that variation is scattered across the ski resort, which gives newbies and rippers alike the chance to explore. Beginners, for instance, can ride to the top of Lift 12, in the shadow of Palmyra Peak, the resort's highest point, and meander all the way to the bottom of Lift 10 on Galloping Goose, a double green with stunning views. Intermediates can take Lift 14, the Gold Hill Express, and ride the aptly named See Forever, with jaw-dropping views and two unique lunch options: Alpino Vino with its fine Northern Italian cuisine served in the highest-altitude restaurant in North America, or Giuseppe's, a more casual spot that is a local's favorite perched on the ridgeline between the resort and Bear Creek Canyon.
HIKE-TO TERRAIN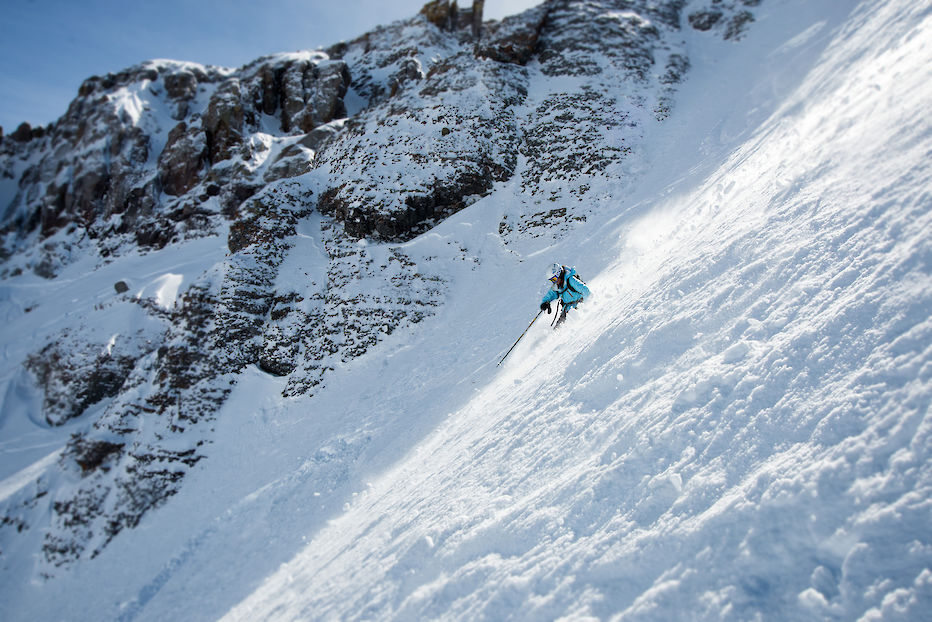 The upper mountain areas of the Telluride Ski Resort contain some of the steepest, most extreme terrain anywhere, giving expert skiers and boarders opportunities galore with a wealth of in-bounds hike-to terrain. Use the Gold Hill Express or Revelation Lift and hike along the ridge to Telluride's iconic Gold Hill chutes. Another option is Black Iron Bowl, accessible via Lift 12. Hike Prospect Ridge and drop into couloirs, European-style faces, open glades and steep chutes. Or go for it: Try the 60- to 90-minute hike to the north face of 13,320-foot Palmyra Peak for 2,000 vertical feet of iconic, double-black couloirs like Senior's, a 52-degree gully that'll give you something to talk about at après time. An added bonus? Most of these couloirs used to have ore in them, meaning that there were a lot of mines up there during Telluride's mining heyday. In fact, many of these old-time mining claims gave their names to the hike-to runs, adding some rich history to your on-mountain exploits.
GO HELISKIING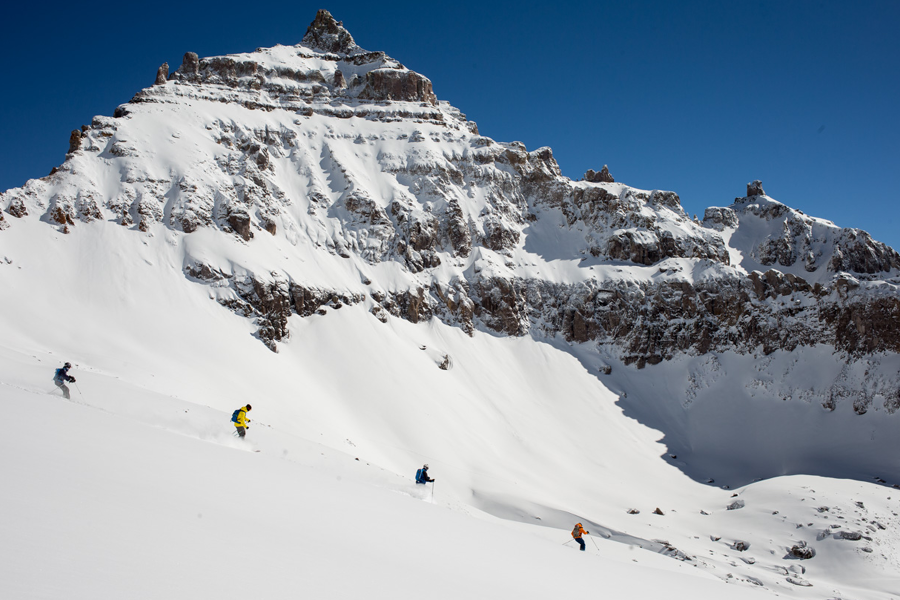 Or go even more extreme. In continuous operation for nearly 40 years, Telluride Helitrax offers the ultimate heli-ski experience with access to over 250 square miles of pristine terrain at some of the highest elevations in North America. Spend the day with the pros at Helitrax and ski off summits and in high alpine basins and cirques in the backcountry of the stunning San Juan Mountains. The family-owned service emphasizes small groups, exclusive terrain and top-notch guides in order to guarantee an unforgettable helicopter ski or snowboard adventure. Heli-skiing with Telluride Helitrax is the real deal, and something you will remember all your life.
GETTING OFF THE MOUNTAIN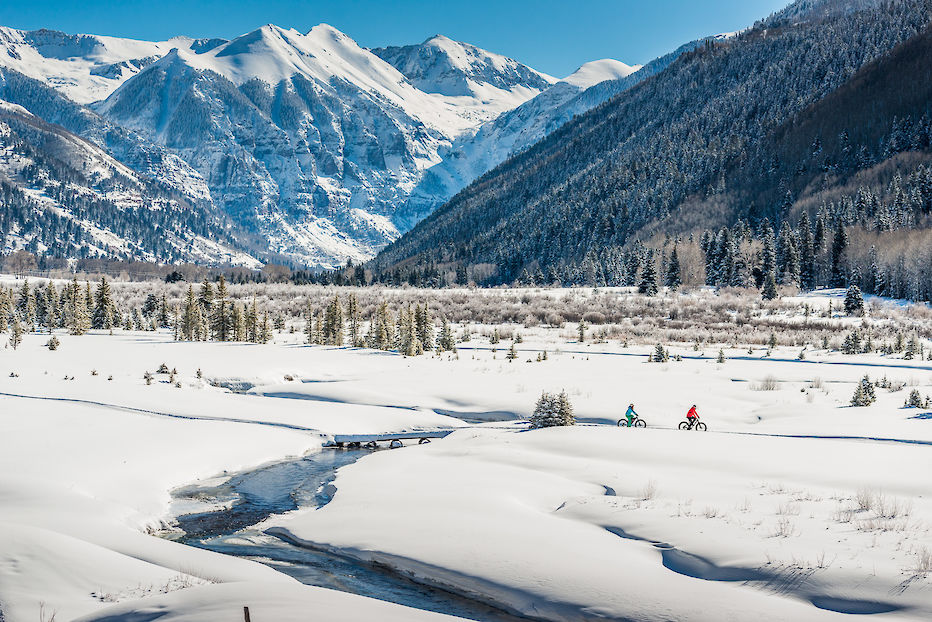 The Telluride Ski Resort is renowned and award winning – it just won Best Ski Resort in North America courtesy of Condé Nast Traveler readers for the sixth time in seven years – but you could take a day off the mountain for an unforgettable, but different, adventure. The San Juans are a true winter wonderland with a range of activities on offer that are, well, off the beaten track. Use a local guide and go snowmobiling to a ghost town from Telluride's mining past. Snowshoe with an expert discover our wintertime flora and fauna or try cross country skiing on Telluride's much-loved, protected Valley Floor with gear from the Nordic Center in Town Park. Want more? Ice climbing, ice fishing and snow biking are all on the winter menu in Telluride.
Make 2019 the year of your Telluride adventure.
View All Blogs