It's a Dog's Life
Guest blog by Connor Knight, topdogtips.com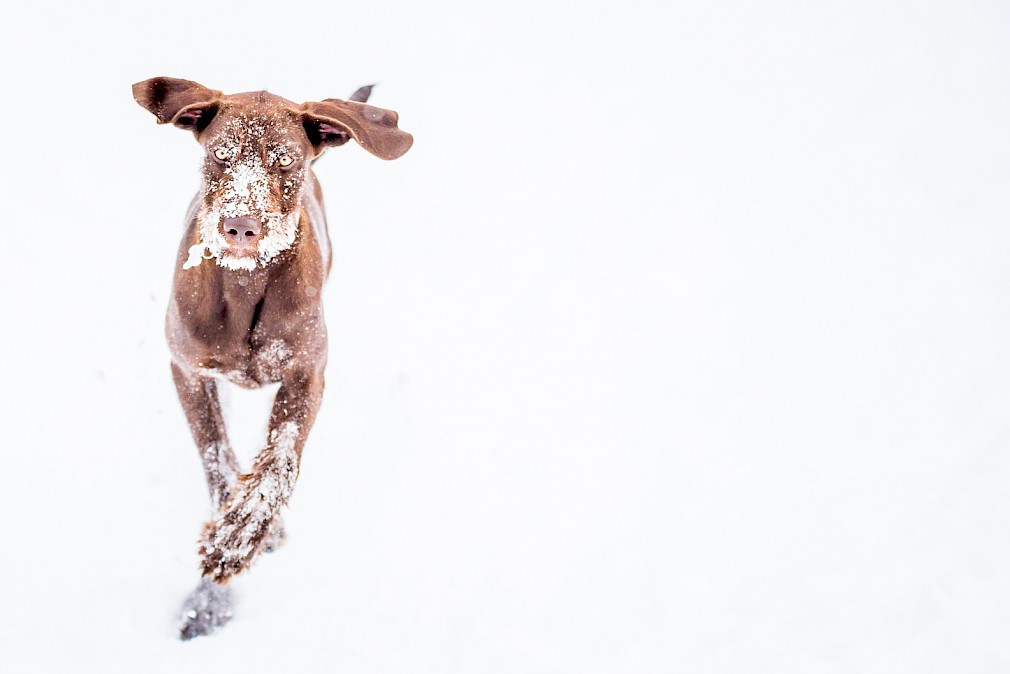 There are plenty of amazing cities and towns throughout the country known for their dog-friendliness, but Telluride goes above and beyond. Nearly every aspect of this town is dog-friendly, making it the perfect destination to visit or even live in with your canine companion. From restaurants to hotels to vets to outdoor activities, there is no shortage of things to do and see and places to stay with your furry friend. Ski season in Telluride is just two weeks away but it is never too early to start planning your summer vacation with your furry friend.
Strolling Through Town
Just take a stroll through Telluride, and you will immediately notice how dog-friendly the town is. As you walk along Main Street, you will come across plenty of humans with their canine companions, all of who are ready to say hi. You and your dog will find yourselves stopping to make new friends or greet old friends at every stop.
Or you can sit down on one of the convenient benches and take a break while still getting to enjoy the passersby and say hi to both canines and humans.
Just remember to keep your pooch on a leash while walking along Main Street, playing in Town Park, and at Mountain Village. Otherwise, follow the signs to see if your pup can run around without his leash.
Staying Hydrated Is Easy
As a dog owner, you are likely in the habit of keeping some water on hand, especially during the warmer months. While this is always smart, it is not as necessary in Telluride, thanks to the dog-friendly atmosphere. As you and your pooch walk along Main Street, you will notice bowls of "Bow Wow Water" placed there to quench your furry friend's thirst.
Forgot a Poop Bag? Telluride Has You Covered 
Telluride even has regular dispensers around town with convenient and free green bags to clean up your dog's waste. These are perfect for those times you left in a rush and forgot to grab your own bags or if you end up needing more than expected during your walk.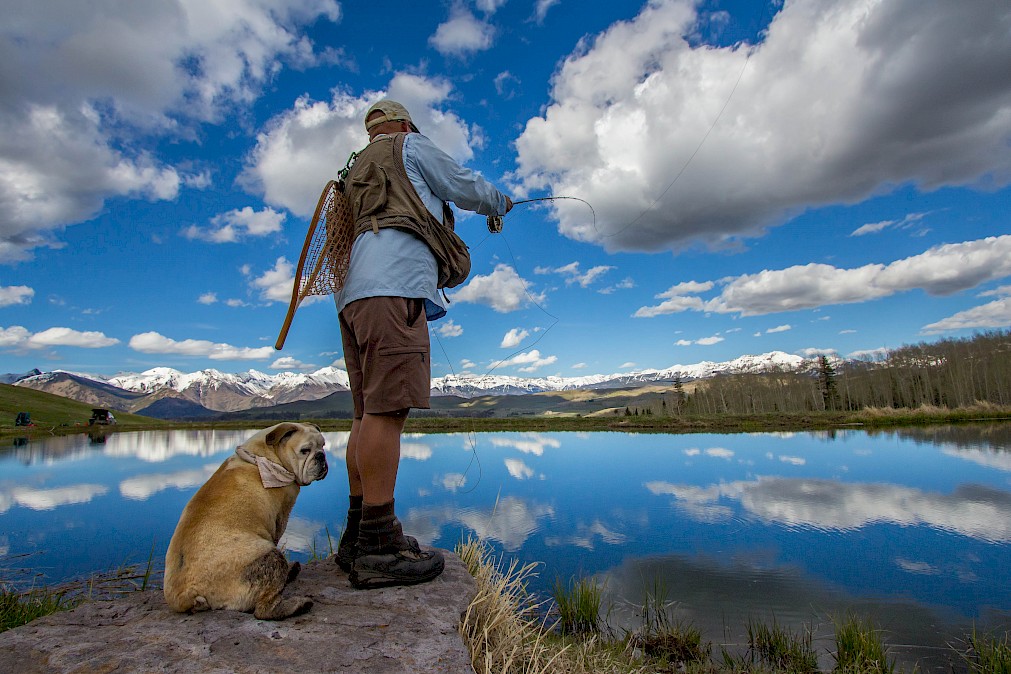 Dog-friendly Outdoor Adventures 
Telluride's proximity to the mountains and nature means that there is no shortage of outdoor adventures for you and your dog to enjoy. There are numerous hiking trails, flower-filled meadows to run through, and other natural beauty to explore. Let your canine cool off in one of the streams. You will spot waterfalls, fresh snow, and wildlife on your hikes, giving your pup the chance to follow his instincts and connect with nature.
No matter the time of year that you visit Telluride with your dog, you will find your choice of numerous trails to explore. There are choices of varying lengths and difficulty to enjoy. In the winter, you could even try snowshoeing or Nordic skiing while your pup runs along beside you.
Just some of the local winter-friendly trails include:
Alta Lakes
Bear Creek Trail
Bike Path
Jud Wiebe Trail
Mountain Village Nordic Trails
San Miguel River Trail
Telluride Town Park
Trout Lake/Lizard Head Pass
The list gets even longer in more temperate weather, as Telluride has more than 90 hikes for you and your dog to enjoy. Just remember to pack water, maps, sunscreen, treats, and other essentials. Most importantly pick up your dog's waste and dispose of it properly. Do not leave poop bags on the trail.
Some outdoor parks in Telluride even have "Pet Parking" areas with convenient spots to attach your dog's leash and handy bins for waste disposal. Of course, these spots are designed for when you are nearby. Your dog won't have fun if you leave him there for hours, although he would likely make new friends.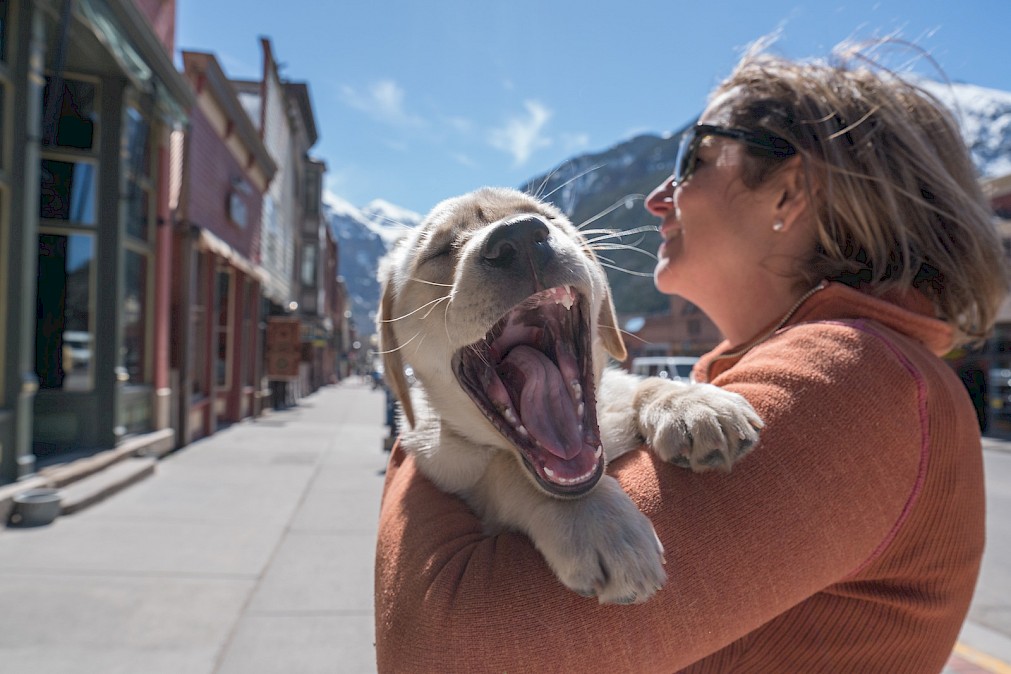 General Rules for Trails
The general rules for dogs on most Telluride trails are the same unless otherwise marked. Your pup can go off of his leash as long as you keep him under voice control. Just take a few seconds to read the signs at the start of the trail to ensure you haven't chosen one that happens to have more restrictions.
Be Respectful and Avoid the Valley Floor
While there are plenty of outdoor areas that you can bring your dog on, leave him behind if you are heading to the Valley Floor. Eco-conservation efforts are currently underway, and these include restricting dogs to protect the wildlife. However, if you want a solo hike without your dog, consider checking out the numerous trails there.
4x4 Adventures
Another option for humans and dogs that love adventure is Dave's Mountain Tours. Feel free to bring your pooch along if you book a private 4x4 tour, but let them know ahead of time. The private tours can fit up to 13 people.
Don't want a tour guide and want to connect with nature? The 4x4 rentals at Colorado145 are pet-friendly. Keep them in mind if you're going to take your dog with you to one of the more remote trails or destinations, like Animas Forks or the Imogene.
Dogs Are Welcome at the Mountain Village – And on the Way There
One of the main attractions in Telluride is Mountain Village, which is dog-friendly. Not only is the village itself dog-friendly, but the way to get there is as well. You take a gondola up the mountain, and you will not have to leave your pooch behind. This makes it easy for you and your furry companion to make the most of Telluride's offerings without having to worry about driving up a mountain.
Once in the Mountain Village, you will find shops, restaurants, and more, many of which welcome well-behaved dogs.
Bring Your Pooch on Public Transportation 
In addition to the dog-friendly cabins on the Gondola to the Mountain Village, dogs are welcome on the Galloping Goose. This is the town's free public bus, and the only requirement is that your canine stays on a leash.
The Gondola
 Although we already mentioned it, the Gondola is worth going into more detail about, as your pup will likely love it. It is free and runs nearly year-round, only closing down for a month every year. Just keep your pup on his leash or in a carrier, and he is welcome in any paw-marked car.
The Gondola is not only convenient, but it gives you picturesque views and is an attraction in itself, dating back to 1996. It also features a mid-way stop at St. Sophia station. Consider taking your pooch up this far then hiking back to Telluride. Or take it all the way to Mountain Village.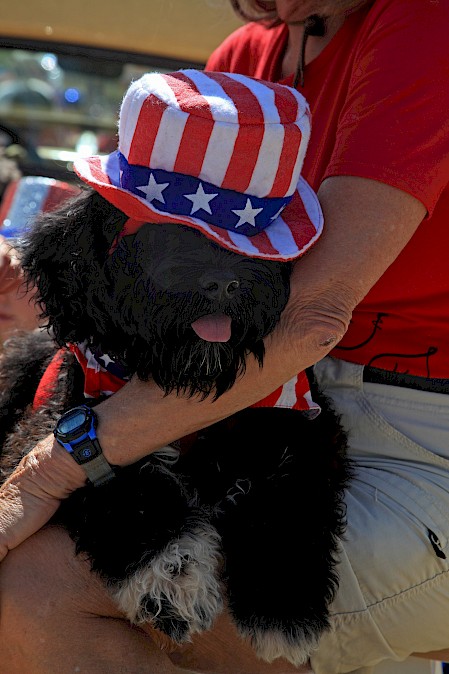 Stay in a Pup-Friendly Hotel
Whether you want to spend the night in Mountain Village or Telluride itself, there is no shortage of dog-friendly accommodations. Many even include comfortable dog beds, complimentary dog toys or gift bags, and homemade dog treats. Pup friendly hotels: Camel's Garden Hotel, Hotel Columbia, Hotel Telluride, Inn at Lost Creek, Lumiere, Madeline Hotel & Residence, Mountain Lodge, Mountainside Inn, and The Peaks Resort & Spa.
Dine or Drink at Dog-friendly Restaurants, Coffee Shops, and Pubs
In such a dog-friendly town, you will also find plenty of places to enjoy a meal or drink with Fido by your side.
Nearly all of the restaurants in Telluride with outdoor seating let you bring your dog onto the patio. In the rare case where this is not allowed, it is completely normal to see humans sitting on the patio while their canine companions are tied to the fence nearby and within eyesight. A few are Baked in Telluride, High Alpine Coffee in Between the Covers, La Cocina de Luz, Oak, Telluride Brewing Company
Shop at Dog-friendly Stores
There are also a number of stores in Telluride and Mountain Village that are dog-friendly, many of which even have treats on hand to offer your pooch. PET Telluride, Second Chance Humane Society Telluride Thrift Shop, and Side by Side.
Keep Your Dog Healthy
You don't have to worry about your canine's health while in Telluride either, thanks to local vets like Steve Smolen. He runs the Animal Hospital of Telluride as well as Pet Telluride, a pet store. The pet store has everything you need for your pup, from food to beds to bowls, while the animal hospital is on-hand if your pet has an emergency while you are in town, and it is available 24 hours a day. Or if you cannot decide what to feed your pup we also have a list of vet recommended dog food brands.
If you decide to move to Telluride to take advantage of its dog-friendliness, the animal hospital can also take care of your canine's regular checkups and shots. Another option is the Telluride Veterinary Clinic.
Pamper Your Dog
You can also let your dog have a relaxing spa day during your trip to Telluride. The Soggy Dog, for example, is the local spa and grooming salon. Your pooch can get a bath or get his teeth brushed, fur styled, and more.
Find Your Pooch a Friend
Whether you already have a pup and are looking for a friend for him or move to Telluride only to find yourself wanting a canine companion to enjoy all the amenities with, there are plenty of options. The Second Chance Humane Society is in nearby Ridgway. You can even help support the humane society by shopping at its thrift store.
View All Blogs