Guide to the 44th Annual Jazz Festival
content provided by Telluride Jazz Festival
The 44th Annual Telluride Jazz Festival is almost here. Here is everything you need to know to get ready!
Running August 13 - 15, the festival presents a well-rounded, diverse mix of live jazz, funk, soul, and gospel performances featuring Galactic featuring Anjelika 'Jelly' Joseph, Robert Glasper, Preservation Hall Jazz Band, The Budos Band, The Hot Sardines, Tito Puente, Jr. And His Latin Jazz Ensemble and many more. To see the full lineup, click here.
Traveling to Telluride
Travel by car on scenic mountain roads or fly in to one of many regional airports to enjoy the festival. View summer flight schedule here.
Colorado's Glenwood Canyon been besieged by mudslides since June, leading to numerous closures of Interstate 70. But a slide that sent thousands of boulders crashing into the Colorado River on July 22, effectively damming one of the country's largest rivers and threatening the eastbound lanes of the interstate, was different. State officials have said the I-70 closure in Glenwood Canyon is indefinite and may last weeks as CDOT crews work to clear the debris.
Festival attendees traveling from outside Telluride should take alternate routes depending on where they're traveling from. Festival-goers traveling from the Front Range or Denver are suggested to take the route using Highway 285 to Highway 50.
Take it from us - for most, a festival in Telluride is best enjoyed without a car! We encourage attendees to arrive, park and use our free transportation system to get around town. We provide parking staff to help direct you into a spot for the weekend. After that, our free Galloping Goose bus system, along with the one-of-a-kind, scenic gondola system between Telluride and Mountain Village, Dial-A-Ride services in Mountain Village and other custom transportation options make getting around a breeze. The festival late night venues, bars, restaurants and shops are located a quick stroll from the festival grounds.
Parking information
Weather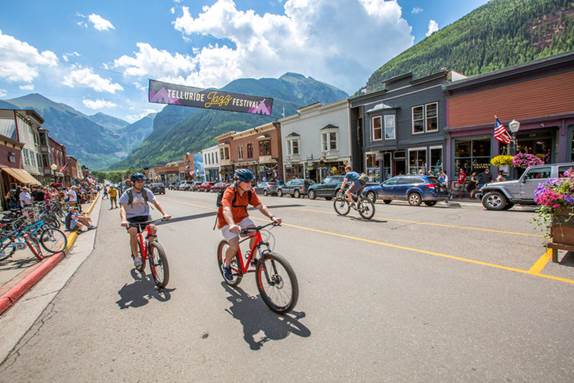 Mid-August - Historic Average Temperatures: Low 41 High: 73
Summer is a beautiful time in Telluride! Lush hillsides shimmer with vibrant wildflowers and alpine landscapes. In the Rocky Mountains, weather can move fast and can be sporadic. Telluride's weather is no exception. Sunshine, rain, overcast and everything in between should be expected during the month of August.
Currently, we are emerging from a monsoon pattern right now, and so that means Colorado was getting a plume of moisture that comes up from the tropics, from the Gulf of Mexico and the Gulf of California. It wasn't the individual storms, it was the weather pattern that brings the storms to the area. This year's monsoon season brought the rainiest July in 10 years. That weather pattern appears to breaking down with bright, sunny days ahead.
With that in mind, Festival veterans know it's better to be over-prepared than under-prepared. Nothing beats a tarp when things are looking wet. We recommend bringing waterproof, quick-dry and insulating layers in case of inclement weather.
Packing for the festival
Each day of the Festival, the gates open in the mid-morning and the event spans into the evening. During the daytime, weather can be mild and perfect for tee shirts, sandals and shorts. UV rays can be higher than you're accustomed to and the air is dry, so we recommend that you bring sunscreen and a water bottle to fill at free water stations located throughout the venue.
In case of precipitation, we recommend you bring waterproof, quick-dry and insulating layers. The Telluride Town Park field can get a bit muddy with rain or snow so wearing waterproof boots and wool or synthetic moisture-wicking socks is also encouraged.
Sunsets during this time of year typically happen around 8:20 pm and can be stunning; however, be prepared for the quick drop in temperatures. Even on a warm day, temperatures can swing more than twenty degrees in a matter of hours. We recommended that you bring a change of clothing layers for this evening shift. Hats and long underwear are all great items to bring to the show in a backpack. We'll have sweatshirts and beanies for sale in the merchandise booth if you need extra layers.
Where to stay
From vacation rentals, to hotels, luxurious to budget lodging, to festival camping, there's a place to stay for every type of festival-goer in Telluride. View a list of our lodging partners for a variety of accommodations and special lodging deals in Telluride and Mountain Village.
Accommodations
At the Festival, you'll find accommodations with intimate Victorian settings or modern design elements—all just steps away from award-winning restaurants. You have the option to stay in the Town of Telluride or head to Mountain Village and discover well-appointed lodging with town access via the free Gondola System and on-site, full-service spas.  View lodging options here.
Festival Camping
Camping at the Telluride Jazz Festival is a righteous experience! The beautiful Town Park Campground can be a fun, social camping experience that is a short stroll from the festival. It does get chilly at night so, pack appropriately-rated sleeping bags and gear. In the event of rain, a ground cloth or tarp does wonders.
FESTIVAL CAMPGROUND HOURS OF OPERATION: THURSDAY, AUGUST 12 AT 11:00 AM - MONDAY, AUGUST 10 AT 11:00 AM.
A campground host will be on duty throughout the festival to answer questions and provide assistance when needed.
Campsites are first-come, first-serve. You cannot reserve a specific site. Please note that festival camping is more of a social experience than a wilderness experience. Expect camping to be close to your neighbors. A campground host will be on duty to help you find an available campsite and to answer any questions. Please respect your neighbors.
The campground is open 24 hours a day. You may arrive and set up camp 24 hours a day.
Children 11 and under are free. Children must be accompanied by adult supervision.
Restroom and shower facilities are available in the campground (flushing toilets and all). There is a $3 charge to run a hot shower for 5 minutes and $1 for additional time. Shower tokens are needed, which can be obtained from a token machine outside the shower buildings that converts $1, $5, $10 and $20 bills only - no coins or credit cards. 
Camping Info and FAQ's
BOX OFFICE-TICKETS & WRISTBANDS
Exchange your tickets for wristbands (required for entrance) at the Festival Box Office. Please arrive to the box office as early as possible! Avoid waiting in lines and exchange your tickets for wristbands earlier in the day. The Festival Box Office is located at 300 E Pacific Street next to the Telluride Post Office. The Box Office is open during the week of the Festival, and the hours of operation are listed below:
Thursday:  10:00 am - 5:00 pm
Friday: 10:00 am - 8:00 pm
Saturday: 10:00 am - 8:00 pm
Sunday: 10:00 am - 5:00 pm
PROOF OF FULL VACCINATION OR PROOF OF A NEGATIVE COVID-19 TEST WILL NOW BE REQUIRED FOR ALL FESTIVAL ENTRY
In response to the growing threat of the delta variant, and in addition to the measures we already have in place, proof of full vaccination or proof of a negative Covid-19 test will now be required for all festival entry.  More Info 
FAQs
You've got questions, we have answers
What do I do with my ticket when I get to the festival? What can I bring to the festival? What facilities are provided on the festival grounds? Which handicap facilities are provided? Can we bring our pets? Is smoking allowed? Are there Showers/Bathrooms? ADA accessible?
Check out our FAQ Page for all of the info you'll need to enjoy your time at the Telluride Jazz Festival.
FESTIVAL LIKE A PRO
In addition to the Main Stage, the Telluride Jazz Festival offers a variety of special event programming to keep you busy all weekend!
The Society Stage at Elks Park
Located in the heart of historic downtown Telluride, the grassy outdoor amphitheater at the Society Stage will host a series of interactive performances by student bands throughout the festival weekend. These performances give attendees and locals a chance to interact with festival artists while learning about jazz culture, history and methods.
Brought to you by the generous support from the Dalton Family Foundation, Dworbell Inc., the Raynier Institute & Foundation, The Dancing Tides Foundation, The Telluride Foundation and Telluride's Commission for Community Assistance, Arts, and Special Events (CCAASE).
Society Stage Schedule
Jazz After Dark
On Friday and Saturday nights, after the festival ends in Town Park, we continue the music with "Jazz After Dark" shows located in various venues throughout Telluride. One pass allows entry into three different shows.
The 2021 Jazz After Dark schedule includes shows from The Budos Band at the Sheridan Opera House, Kelly Finnigan & The Atonements at The Moon at O'Bannon's and Christian Sands at Telluride Elks Lodge on Friday night. Along with The Dip at the Sheridan Opera House, Bonerama at The Moon at O'Bannon's and Allison Miller's Boom Tic Boom at the Telluride Elks Lodge on Saturday night.
Jazz After Dark passes allow access to all venues for the night purchased. Be aware, Jazz After Dark passes do not guarantee entry to the show, all venues are first come, first served and based on the capacity of each venue. As they fill up, we direct you to whichever Jazz After Dark venues are not full. As the night goes on, crowds at the Jazz After Dark tend to rotate, so even if you can't catch the start of the band you want to see, there's a good chance you can catch the last half of their show. So, if there is one particular band you really want to see, get in line early for the show! After the shows begin, entry is dependent on capacity.
The Patron Pass includes entry into all Jazz After Dark Shows and priority early entry.  For the Jazz After Dark schedule, click here.
Jazz on Main
Kick off the 2021 Telluride Jazz Festival in style with the new Jazz On Main! The Jazz Art Walk will take place from Thursday, August 12, from 5-8 pm in the heart of historic downtown Telluride. The event will feature live music at five restaurants and bars. Learn more →
Morning Jam
Start your Telluride Jazz Festival mornings off with pleasant live jazz music, coffee and breakfast at the Phoenix Bean. Morning Jam will offer a jazzy wake up to a full day of music on Saturday and Sunday of the Festival. Attendees can enjoy performance led by Jack Kotz and Bob Hemenger, along with a variety of breakfast dishes, baked goods and coffee drinks for purchase from the Phoenix Bean in the heart of downtown Telluride.
Any and all musicians are welcome and encouraged to join in on the jam for an improvisational performance to get their day swinging. The jam will be will be first-come-first-play, with a sign up sheet. The music jams will go from 9-10 am on both Saturday and Sunday. The event is free and open to the public, coffee and food are available for purchase.
First Note Yoga Sessions
Guided by professional instructor Julia Johnston, enjoy a smooth yoga flow at the free "First Note" Yoga Sessions. Learn activating breath techniques, liberating movements and playful exercises in the crisp mountain morning air. Nestled in the cozy amphitheater of Elks Park in downtown Telluride, the yoga sessions are a fun and inspiring way to start your mornings.
Guests of all skill levels are welcome to join. New to yoga or considering for the first time? Join in and discover the healing power of yoga.
What to Bring: Water, Yoga Mat, Towel and Active Wear (Come with or without - these items are not mandatory to join in the class). For more info, click here.
Historical Walking Tour
Discover the past with Saturday morning's Historical Walking Tour presented by the Telluride Historical Museum. Presenter and long-time resident Ashley Boling will guide visitors through Telluride's storied past and celebrated landmarks. This tour is sold out, ticket holders can meet at 9 am in front of the Courthouse, across from Elks Park on Colorado Ave (Telluride's Main Street).
All festival pass holders receive free admission to the Telluride Historical Museum throughout the event. Festival attendees will have the chance to visit the museum and learn about the region's rich Ute Native American heritage, mining, ski and festival history.  Show your festival wristband for museum entry. The Museum is located at 201 W Gregory Ave.
New Orleans Second Line Parade
Second Line Parades are a New Orleans tradition. Brass-bands take to the street, play and march. Onlookers who followed along to enjoy the music were known as the second line.
On Sunday, August 15 at Noon, join the Festival staff, attendees, Bonerama and Hooligans Brass Band at Elks Park for a Second Line Parade down Main Street all the way to Telluride Town Park. Everyone is welcome! Colorful floats, costumes, beads and decorations are all welcome as attendees join in on the march through town.
The Final Waltz
After Galactic Featuring Anjelika 'Jelly' Joseph closes down the Main Stage Sunday, August 15, the festival concludes with a special performance by Preservation Hall Jazz Bandat Sheridan Opera House. The upbeat, soulful and funky performance from the award-winning artist will be the perfect way to cap off the weekend! Get tickets →
FOOD & DRINK AT THE FESTIVAL
The beer, wine and cocktails will be served throughout the festival. Sierra Nevada Brewing Co. will be serving up a full menu of craft beer including the celebrated Pale Ale, Hazy Little Thing IPA, Wild Little Thing Slightly Sour Ale, and Oktoberfest. Read more about the craft beer menu here.
In addition to beer, the festival features a vast array of wine from full-bodied reds with bold flavors to dry, and zesty whites with a smooth finish. The 2021 wine list has something for every kind of wine enthusiast. Explore the list here.
Patron and VIP Experience pass holders will be treated to an open bar featuring a menu of specialty craft cocktails!
Patron and VIP Craft Cocktails
The sophisticated menu of craft cocktails at the 2021 Telluride Jazz Festival is the perfect touch to round out the elegant Patron and VIP Experience. The extensive selection of craft cocktails featuring premium vodkas, gins and tequilas prepared by Andrés Vargas-Johnson, will keep you feeling festive all day long. From original creations like, The Nomad, Rock Cobbler, and Via Alpinista to twists on classics like Satchmo's Bloody Mary & Maria Bar the menu is an inventive masterpiece. See the full menu below and get all of the details here.
Festival Food
If you're a foodie, prepare for food heaven! The delicious food vendor menus at the Telluride Jazz Festival will keep your taste buds satisfied all weekend long. Meet our vendors  →
Putting a priority on a high quality culinary experience this year's Patron Experience features an eclectic menu served in an exclusive, covered Patron Lounge located in the backstage area of the festival. Tantalize your taste buds with this delicious 'tour de food' presented by Telluride chef Josh Klein.
View All Blogs