Flying to Your Favorite Mountain Town
How has Telluride followed up last winter's epic snowfall? By making it even easier to hit the snowy slopes of the Telluride Ski Resort this winter. That's right, the winter 2019-2020 forecast promises a blizzard of air options, making your favorite mountain town  among the best resorts for access.
Winter flight changes are led by the addition of New York/LaGuardia LGA flights to Montrose MTJ on Saturdays on American Airlines. American will also be increasing their Chicago ORD-Montrose flights to daily in February and March, and running a mainline jet on Dallas DFW-Montrose flights with a 27 percent increase in capacity.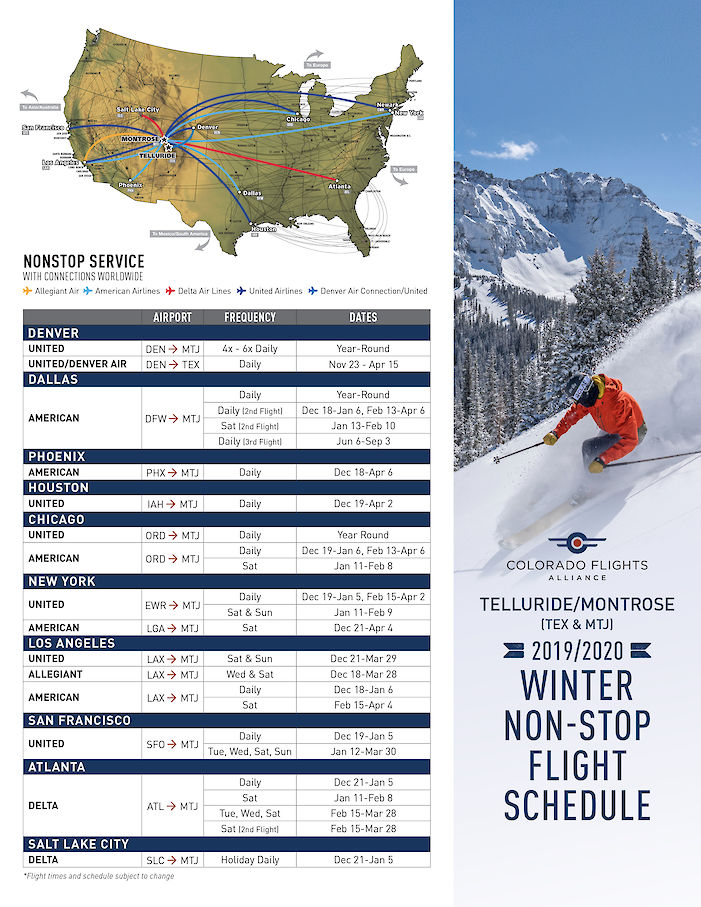 "Additional nonstop service into the New York metro, one of the world's largest ski markets and a top market for Telluride, will continue to increase ease of access for our eastern guests," Colorado Flights CEO Matt Skinner says. "With 15 nonstop flights from 11 national hubs, the Montrose-Telluride region ranks among the best in mountain destinations for air access."
United's main addition is the expansion of Chicago flights through fall to winter, with that service on the verge of going daily, year-round. New York/Newark EWR flights will also run daily again during the holiday season and in February and March after a successful start last year.
Delta will be adding a day to its Atlanta ATL service, now running four days a week during the core season, taking steps towards daily winter service.
Telluride Airport TEX will feature the recently launched Denver Air Connection flights this winter between Denver DEN and Telluride, operated on a 30-seat Dornier Jet with a United Airlines interline relationship. Although Boutique Air will not operate at TEX during the winter months, flight capacity to Telluride will jump by more than 60 percent for the winter season.
Winter service to Montrose also includes direct flights from Houston IAH, Los Angeles LAX, Phoenix PHX, Salt Lake City SLC and San Francisco SFO, meaning Montrose and Telluride airports have 15 nonstop flights from 11 major hubs, including six hubs with daily service. Air service for the 2019-2020 winter season will see an increase of 13 percent into the two airports serving the destination.
View All Blogs