Camp with Care
The Telluride area is host to some pretty spectacular places to camp, with stunning vistas, a variety of trails and the potential for some very cool sightings of wildlife. This summer, if you plan to camp and if you love Telluride, return that love by camping responsibly. Here's how:
Careful with Campfire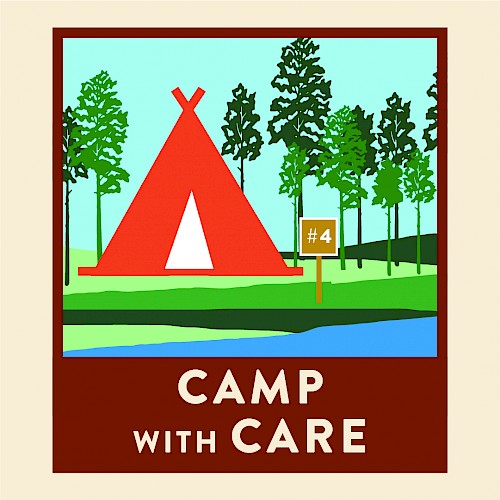 It is expected to be a very dry summer so be careful with campfire. Start a fire in a designated fire ring whenever possible. Never leave a fire unattended. Always drown fire in water to extinguish all embers. If it's too hot to touch, it's too hot to leave.
If fire restrictions go into place, fires in rock rings are NOT allowed under any circumstance. Fires in metal rings at U.S. Forest Service and dispersed sites are permitted under most Forest Service fire restrictions (Level 1).
Camp with Care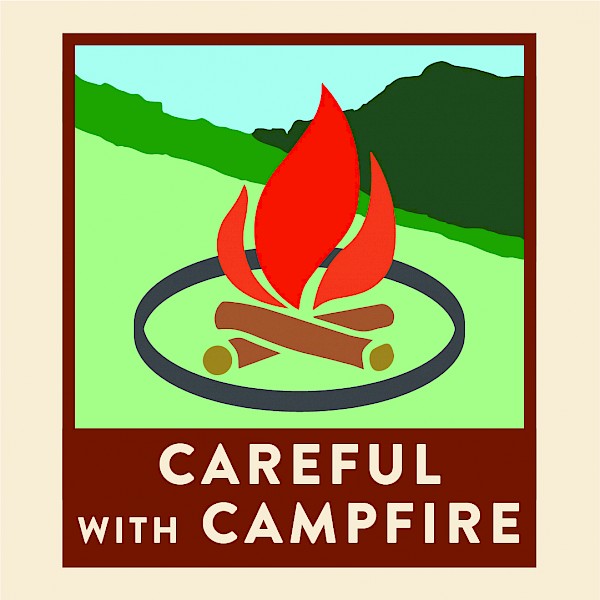 Camp in designated campsites whenever possible. If you are dispersed camping, occupy a site where impacts already exist, such an existing fire ring and flat surfaces for tents. Avoid camping in meadows or sensitive riparian areas. Try to camp at least 200 feet from any water source.
Disposing of trash. Pack out all trash with you or dispose of trash if receptacles are provided. If the receptacle is over-full, pack out your trash.
Plan your trip. Prepare by knowing where you can camp, what options there are if the campground is full and know the regulations and special concerns for the area you want to visit.
Finding a dispersed camping area. If campsites are full, you will need to find a place where dispersed camping is permitted. Some of the locations where dispersed camping is allowed are south of Telluride off of Hwy. 145 across from Lizard Head Pass, on the east side, across from the bathrooms.
Read the signs. Learn what the various USFS icons mean. Is camping allowed? Are campfires allowed? Are campfires permitted in fire rings only?
The majority of camping options in the Telluride area are first-come, first-served but a few are bookable online. Please note that all campgrounds that are bookable online are close to if not already full for summer 2022, but cancellations do occur. Check recreation.gov. for availability.  
Woods Lake Campground, 31 sites, west of Telluride turn off Hwy. 145 at Fall Creek Road. 
Sunshine Mesa Campground, 18 sites, Hwy. 145 South (towards Rico)
Priest Lake Campground, nine dispersed sites (6 of them are walk in sites), Hwy. 145 South (towards Rico)
Matterhorn Campground, 28 sites, Hwy. 145 South (towards Rico)*
Mary E Campground, 20 sites, Hwy. 145 west. Turn left on County Road 63L (Ilium Road).
Town Park Campground, Telluride, 43 sites. VERY limited availability if any. 
Caddis Flats Campground, Hwy. 145, North (towards Norwood)
Lower Beaver Campground, five sites, Hwy. 145 North (West towards Norwood)
Ledges Rockhouse Campground, 12 sites, Hwy. 145 North (West towards Norwood)
Ledges Cottonwood, 14 sites, Hwy. 145 North (West towards Norwood)
Cayton Campground 27 sites, Hwy. 145 South (towards Rico)
Ridgway State Park, 275 sites, south of Ridgway on Hwy. 62*
*bookable on line at recreation.gov 
If you can't find a spot at any of these campgrounds, some options are the large open space on the left near mile marker 2 of Hwy. 62 leaving Placerville and traveling toward Ridgway. Or, travel north on Hwy. 145 from Telluride toward Norwood. Past Norwood there are hundreds of acres of BLM land. One area is the Busted Arm/East Naturita Dispersed Camping, which is located about 15 miles south of Norwood heading towards the Miramonte Reservoir. There are 6 Designated Dispersed campsites that are spread out along Forest Service Road 642. Thunder Trails Dispersed Camping area, 4 miles south of Norwood on Forest Service Road 609, is another option with 6 campsites with fire ring. 
Another option is to go south on Hwy. 145 toward Dolores where there is dispersed camping along the Dolores River and on BLM land in the area. Use a map that includes land designations to know if the land is private or public, and if it is public, whether it is USFS or BLM land.
This summer, treat Telluride's backyard with kindness by camping responsibly and safely. For more, the USFS guide to camping is packed with good information.
View All Blogs