Whipple Mountain Trail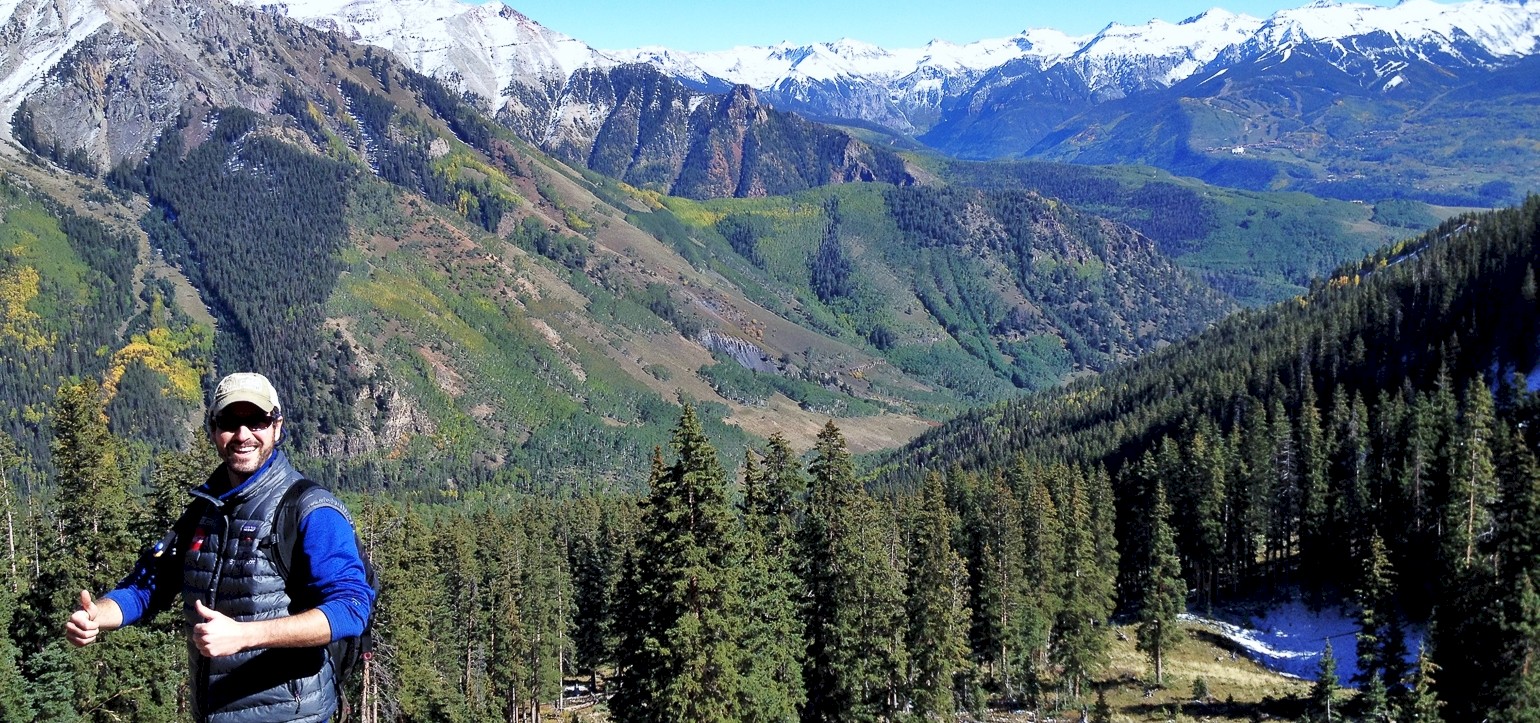 Outstanding Views of Mt. Wilson
This beautiful hike is accessible via two trailheads - a Western trailhead (Upper Whipple) featuring a 1,000-foot gain in elevation, and an Eastern trailhead (Lower Whipple) near Deep Creek road with an elevation gain of 2,900 feet. If you like downhill hikes you should consider heading West to East.  If downhill hiking is bad on your knees you should head East to West.
From the Westward trailhead parking area, this hike climbs gradually to the east through the Mount Sneffels Wilderness and offers outstanding views of Mt Wilson and the La Salle mountain range in Utah. After an approximately 3/4 mile hike uphill, the trail begins a descent into the West Fork of Deep Creek. The trail continues through thick Aspen groves near avalanche slide paths to the north. For this reason, we do not recommend this hike during the winter. Eventually, it drops into a large meadow and meets up with Deep Creek Trail (#418). Descending on Deep Creek Trail leads to a junction with Iron Mountain Road where you continue hiking uphill for a short distance. Continuing on Deep Creek trail makes its way towards Telluride and finishes at the Last Dollar Road Eastern trailhead.   
Distance: 7.2 miles
Difficulty: Moderate
Elevation Gain: 2,900 ft
Time: 2-5 hours dependent upon the trailhead chosen
Directions:
From Telluride, travel approx. 3.5 miles west on State Hwy 145, turn right (north) onto the Last Dollar Road, Forest Road #638. Proceed for approx. 5.5 miles north on #638, past the airport and through the Greyhead subdivision, to the Whipple Trailhead. Look for the trailhead sign on the east side of Forest Road #638. Road #638 is extremely slippery when wet. High clearance, 4-wheel drive vehicles are recommended.
More Information: For additional details and an interactive map, click here.