Skiing & Snowboarding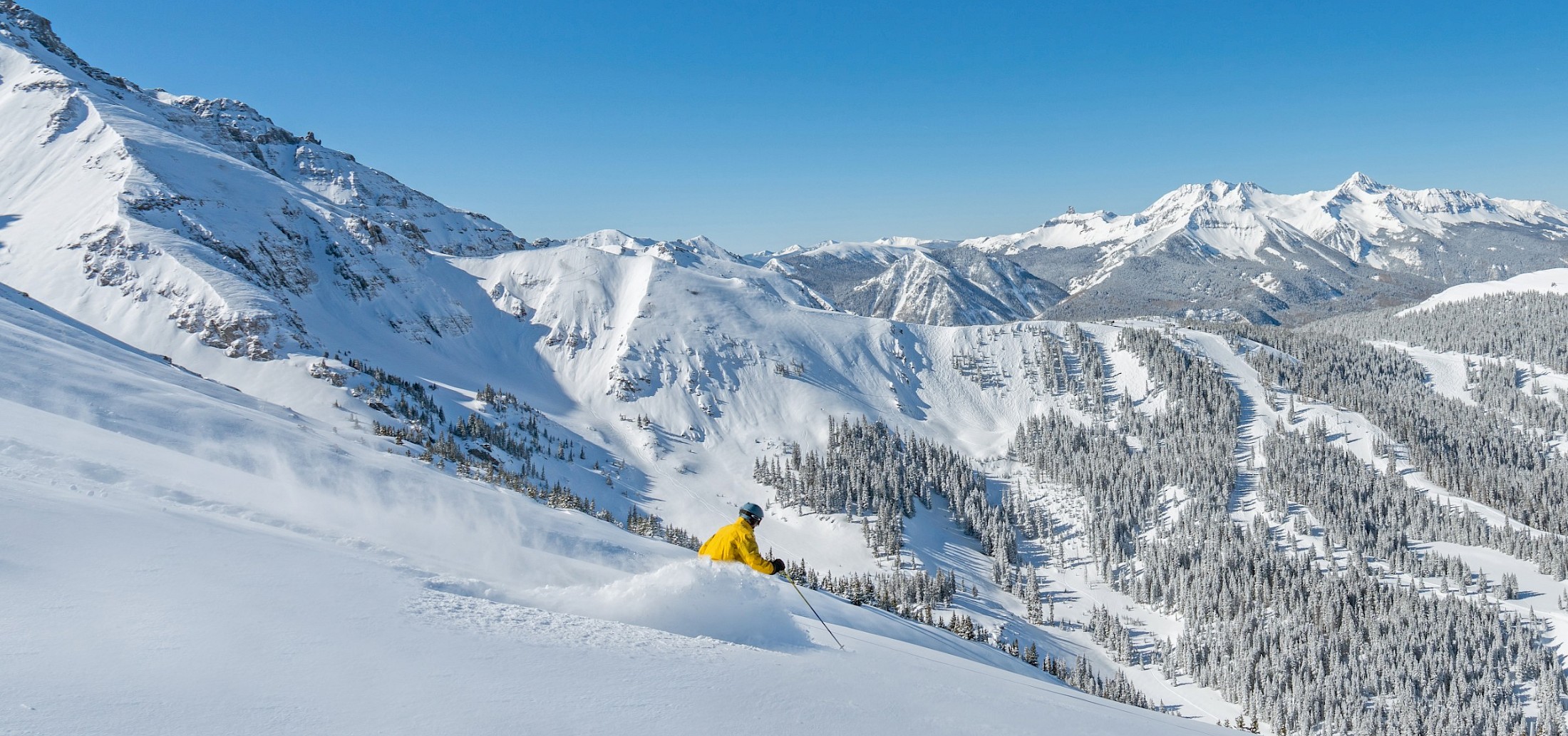 The Telluride Ski Resort is recognized internationally as a premier ski and snowboard destination. Telluride's terrain is legendary and has always been revered as the best of Colorado.
The region receives on average more than 300 inches of snow annually and offers more than 2,000 skiable acres for all ability levels. With 300 days of yearly sunshine and no lift lines, skiing and snowboarding in Telluride is an epic experience. Telluride Ski Resort opened Revelation Bowl in 2008. This spectacular European-style terrain is situated above the tree line and offers advanced and expert skiing in an unbelievably scenic setting. All told, the resort has recently expanded by nearly 400 acres, offering the most stunning skiing and riding on the continent.
Telluride offers a wide variety of terrain ideal for abilities of all levels. 
Advanced/Expert Skiing and Snowboarding (41%)
Adrenaline junkies beeline to Plunge (Lift 9) to conquer steep bump runs, such as Kant-Mak-M, Spiral Stairs and Mammoth. Some experts opt to ski or ride The Plunge, a classic run known for its breathtaking views of the town of Telluride. This jaw-dropping black diamond descends 3,140 vertical feet from the top of the mountain down to Telluride. Others prefer the steep and deep off Gold Hill (Lift 14), where Little Rose, Dynamo and Electra are popular choices.
Intermediate Skiing and Snowboarding (36%)
While Telluride skiing and snowboarding are renowned for its steeps and bumps, 38 percent of the resort is intermediate terrain. Village (Lift 4), Palmyra (Lift 5) and Prospect (Lift 12) are perfect for intermediates, offering corduroy cruisers, glades, moderate bumps and short chutes. See Forever, Telluride's most popular intermediate trail, is just over three miles long, providing panoramic views all the way to Utah's La Sal Mountains.
Beginner Skiing and Snowboarding (23%)
With wide-open slopes and no lift lines, beginner skiers and snowboarders can learn the tricks of the trade in a friendly, low-pressure atmosphere. Sunshine (Lift 10), Ute Park (Lift 11) and Prospect Bowl (Lift 12) are beginner and lower intermediate's dreams with meandering green and blue runs that span nearly two miles. Beginners also enjoy the Galloping Goose, a 4.6-mile trail that gently works its way from the top of Prospect (Lift 12) down to Mountain Village.
Click here for the Telluride Ski Resort trail map.
Click here for snow report and grooming information.
Click here for the Telluride Ski Resort Ski & Snowboard School.
Click here to download the Telluride Ski Resort App.