Photography Tours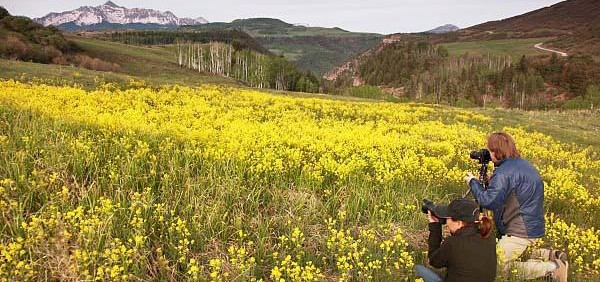 Soaring peaks, alpenglow, waterfalls, aspens, historic ghost towns, rivers, canyons, flora and fauna—Telluride's majestic beauty has captured visitors for decades. Telluride's appeal encompasses all of Southwest Colorado and an inexhaustible range of subjects. 
The San Juan Mountains speak to the photographer in a voice unique from any other range. Iconic picturescapes, such as Wilson Peak, Bear Creek and the view from Imogene Pass are so numerous that they obscure the endless secrets of these mountains which unfold for the exploring photographer.
Photography tours offer visitors the ability to capture moments and places that occur uniquely and to guide photography enthusiasts on an unforgettable journey with the knowledge that can only have from living in the mountains themselves.  
Tours are offered from downtown Telluride to the highest mountain passes in America, the most famous historic mining camps in Colorado and through forests of aspen and fields of wildflowers. Tours also photograph Black Canyon National Park, the San Miguel, Dolores and Uncompahgre Rivers, herds of elk, soaring birds of prey and the trout that swim in our streams.
Tours are offered during all four seasons: winter, spring, summer and fall.