Mountain Village Nordic Trails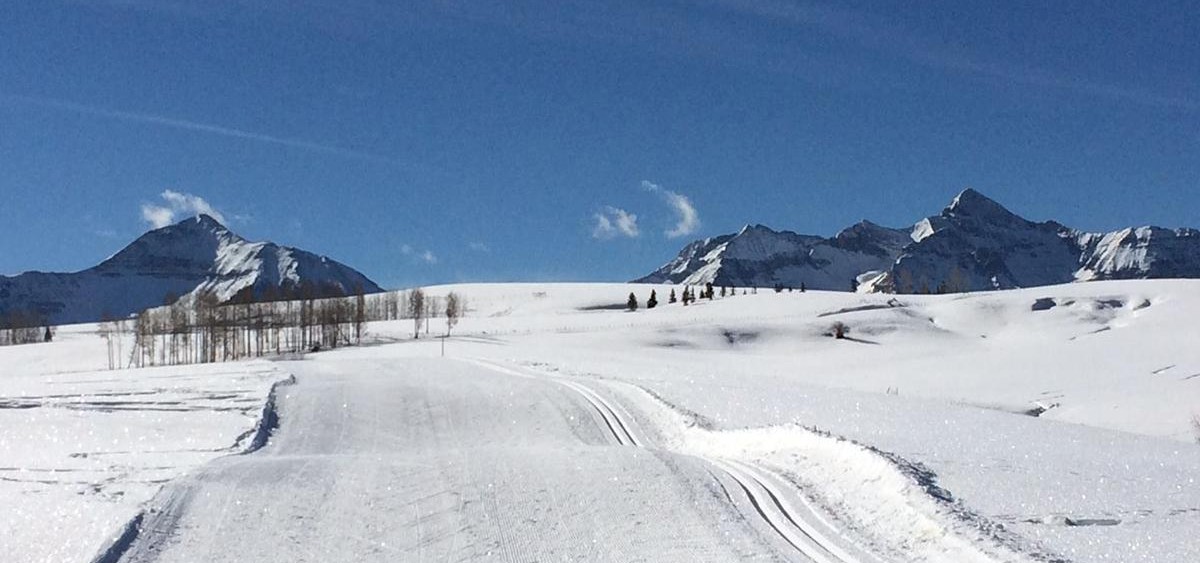 The Mountain Village Nordic Trail System is scenic, dog-friendly and well-maintained. Using a Piston Bully 100 Snowcat, the town grooms almost eight miles of nordic trails to create a quality surface for as many users as possible. Mountain Village's Nordic trails accommodate skiers, hikers and snowshoers as well as dogs who are accompanied by a responsible dog owner. We do ask that foot traffic stays to the sides of the trails, off the classic grooves.
Mountain Village Nordic Trails The following trails are part of the Nordic Trail System. Each one is interconnected, starting at the Telluride Valley Floor via the Boomerange Trail and continuing to the Mountain Village nordic trails located on the Telluride Ski & Golf Company's golf course. These trails reach into the Village Center and extend out to the Mountain Village entrance. Please review our Nordic Trail Maps and Guide to help navigate our trail system.
Boomerang (1.5k) Campbell Peak View (2.5k) Double Eagle Loop (1k) Elk Crossing (1k) Goose Connector (0.5k) Skunk Creek (4k) Wilson Loop (2k)
Trail Access For your convenience, there are multiple access points to our Nordic and snowshoe trails. If you are driving, you may access the trails from a free parking lot on Adams Ranch Road, 100 yards north of the intersection at Mountain Village Boulevard. Or if you're in the Village Center, access is available from The Peaks Resort and The Peaks ski run, at the top of the Chondola.