Mount Sneffels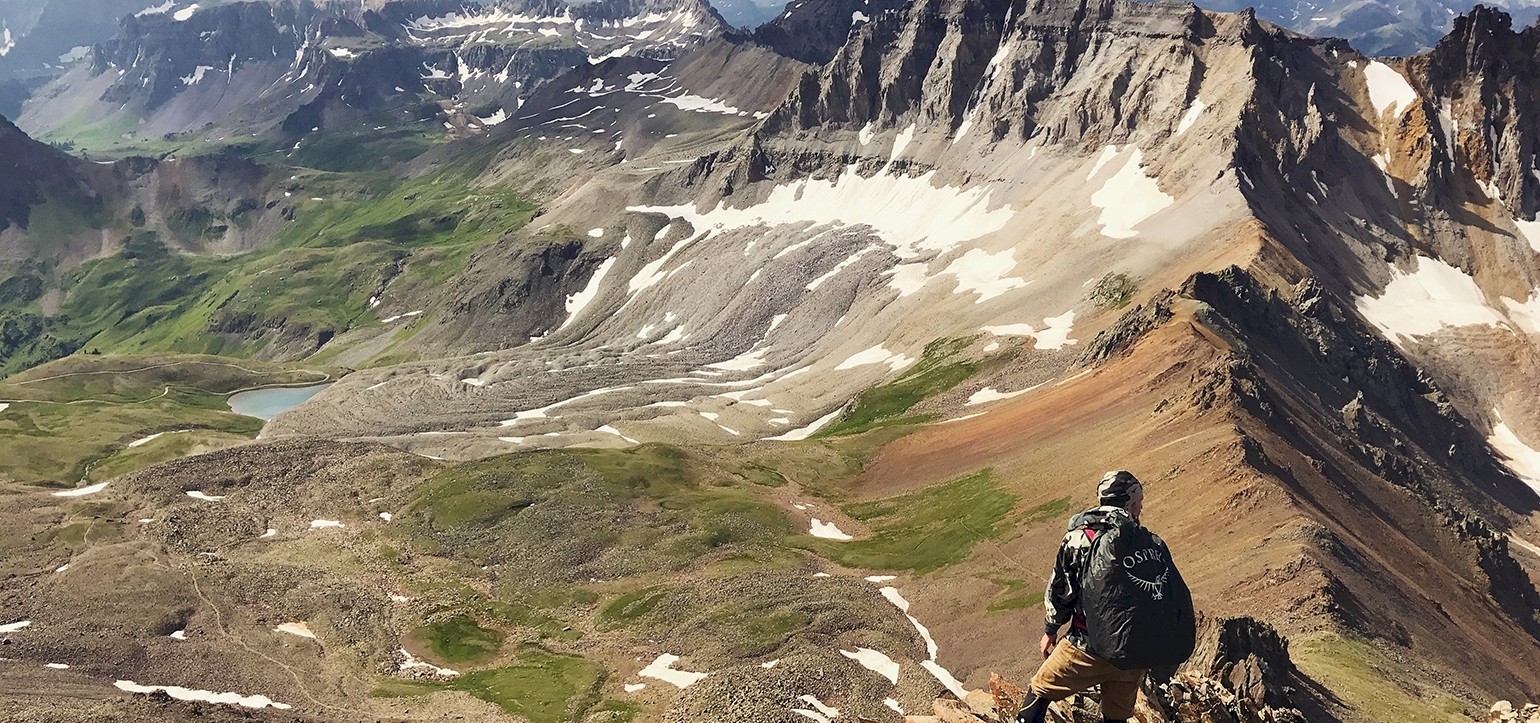 One of the Most Beautiful 14ers
There's no doubt about it - this is one of the most rewarding 14,000-foot hikes in Colorado. That being said, hiking any 14,000-foot peak is not easy, and this is no different. The trek starts in the beautiful Yankee Boy basin, which has plenty of wildflowers, pike and marmots, and comes to an end at the stunning Mount Sneffels, which has unbelievable views of the San Juan Ridge and the Wilson group. This hike is best from June until September. 
Distance: 6.8 miles (round trip)
Difficulty: Difficult
Elevation Gain: 3,261 feet
Time: 6-8 hours
Note: There is an option to hike up Mt. Sneffels from the western ridge (from the Blue Lakes trail). Be prepared to add several hours if you plan to hike from this direction.
Directions:
There are two different access points for Mount Sneffels, but the classic route runs through Yankee Boy Basin from Ouray.
From Telluride, drive west on CO-145 North to CO-62 E (State Highway 62) towards Ridgway. Once through Ridgway, take a right on US 550 and head towards Ouray. A quarter of a mile south of Ouray on US 550, turn west onto CR361 (a 2WD dirt road) toward Yankee Boy Basin. 
4.7 miles in, stay right on CR26. In 1.4 miles, stay right at the junction for Imogene Pass. 0.5 miles later, stay right and pass a Yankee Boy Basin information sign. Stay right at 853 1B road. Anything further requires 4WD. Smaller 4WD vehicles can make it about 0.9 miles to a lower trailhead with a restroom, but after that, a true off-road vehicle is required. The upper trailhead is located up the road.
From the parking lot, follow Blue Lakes Trail and stay left at a junction a quarter mile up the trail. You'll climb up the southwest ridge and follow the clearly-marked trail until reaching Blue Lakes Pass. From here, turn right and follow the southwest ridge, which will have a lot of loose rock and there will not be a clear route. Continue climbing until you reach the ridge proper at 13,700 feet, where the summit will be visible.
The way down is also difficult. From the peak, head southeast and then down a gully (which may be snowy) until you reach a saddle at 13,500 feet. From the saddle, there is a gully of loose gravel and dirt that is difficult to traverse down. From the bottom of the gully, follow the Mt. Sneffels Trail for half a mile to a junction and return back down the trail you came in on. Congrats! You did it!