Ice Lake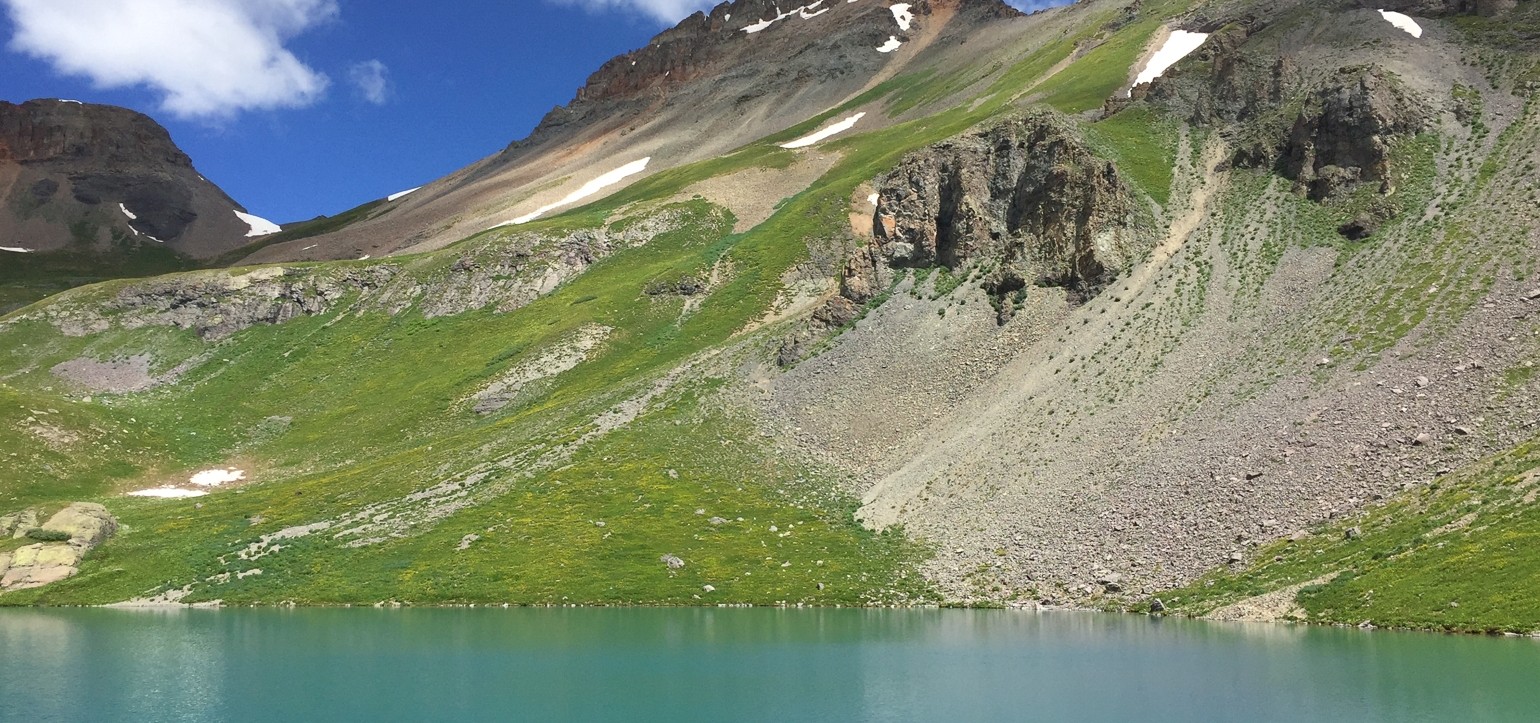 To get to the trailhead, drive up Clear Lake Road and park at the first switchback. The hike begins from the first switchback and almost immediately brings you to a waterfall crossing. The waterfall is typically flowing fairly strong, but the crossing is safe on a log bridge. Ascending through the forest, you will spot daisies and asters along the hillside until you reach a plateau.
Before you sits a meadow, thick with three feet tall indigo delphinium. Meander through these gorgeous flowers until you reach the next water crossing. Gaze to the right, at the waterfall and all of the whitewashed boulders. Choose a crossing at this narrow creek and hop across some of the larger rocks before beginning a steep ascent. Once at the top you will be surrounded by a field of columbine, delphinium, and paintbrush. It is spectacular!
Continue on the trail until you reach Ice Lake. This brilliant sapphire lake is rimmed in turquoise and surrounded by jagged peaks. Take your time here to admire the beauty of the lake, wildflowers, and mountains. The shades of blue in the lake change when the sun ducks behind the clouds; countless colors of greens and blues can be seen depending on the amount of light that is reflected.
At this point there are three options:  return to the trailhead, continue on Ice Lakes Trail south to the basin and Fuller Lake, or cross over the stream and ascend the trail to Island Lake.
Distance: 7 miles out and back
Difficulty: Challenging
Elevation Gain: 2,562 Ft
Time: 5 hours
Directions:
From Telluride take Ophir Pass to Hwy 550 (Million Dollar Highway) and turn right, heading south.  After approximately 4 miles, turn right on Forest Service Road 585. Follow this Forest Service Road to Clear Lake Road (Forest Service Road 815) and turn right. Drive to the first switchback where there is room for a few cars to park. This shortcut saves you approximately 1 mile from the hike through a steep forest. Otherwise, park at the South Mineral Campground on 585 and cross the street to the true trailhead. Either way, once you have completed your hike either return to Telluride over Ophir Pass or take a long way back and stop for lunch in Ouray. 
More Information: For additional details and an interactive map, click here.