Bridal Veil Falls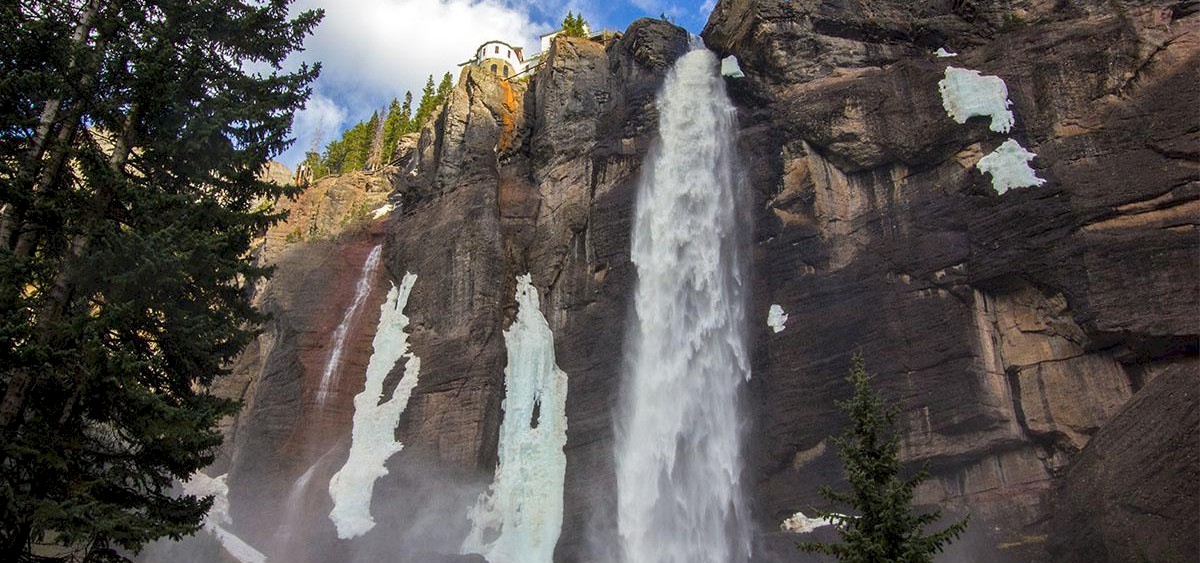 Iconic Stunning Waterfall
The spectacular Bridal Veil Falls is the tallest free-falling waterfall in Colorado. At 365 feet in height, these falls entice visitors and adventurers from all over the world to hike, bike, four-wheel drive, ice climb, and explore the surrounding wilderness. A privately owned, historic power plant sits atop the falls. 
In the winter, this stunning waterfall freezes, creating one of the premier ice climbs in the region. The 4-wheel drive road up to Bridal Veil Falls is closed in the winter but guests may drive to the end of the box canyon to catch a glimpse of this frozen beauty. Hiking and snowshoeing up to the falls is discouraged as winter hazards such as rockfall and avalanches exist.
Directions:
Drive east through the town of Telluride along Colorado Avenue toward the east side of the box canyon. Continue past the Pandora Mill site on your left.
Hikers can park at the bottom of the falls (obey all parking signs) and either hike up the road or the Bridal Veil Falls Trail, which features two additional beautiful waterfalls. 
It is possible to drive to the bottom of Bridal Veil Falls, but the road is 4WD, high-clearance vehicles only. The road is very busy with hikers, bikers and 4-wheel drive traffic so driving should only be considered if you are unable to hike or bike. No vehicles are permitted beyond the top of the falls (Black Bear Pass is one-way down to the falls).